It can be tough to come across the scene of a gruesome accident involving a death or injury. But protecting your safety is the most important priority in this situation. In the majority of cases, these gruesome scenes will contain blood and other bodily fluids that will require special cleaning products in order to be removed. If not, improper handling can result in serious illness or disease.
ServiceMaster Fire and Water Restoration provides professional biohazard and trauma cleaning services for residential and commercial properties in Arvada, CO. Our technicians are trained and experienced to remove all biohazards while disinfecting the scene with advanced cleaning products. We also work with law enforcement officers while cleaning up the scene.
Experienced Biohazard Cleanup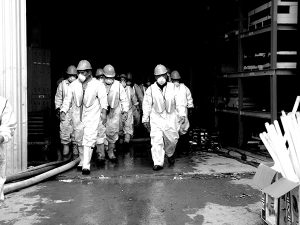 The professionals at ServiceMaster Fire and Water Restoration are both trained and certified to effectively remove biohazard materials from properties. All biohazard materials like blood and tissues potentially contain bacteria, toxins, and viruses that can lead to disease or illness. We will prevent the risk of infections with advanced cleaning processes. Our technicians also ensure to use personal protective equipment (PPE) to keep them safe while using professional cleaning equipment and products.
All of the following will be effectively removed with our biohazard cleanup services:
Certified Professionals: Each of our technicians is certified and licensed to conduct proper biohazard removal while working with law enforcement at the local and state level, if needed.
Safe Disposal: ServiceMaster Fire and Water Restoration will remove all biohazard materials off-site to a licensed facility for proper disposal.
Decontamination: After removing the biohazards, we will use professional cleaning products to effectively decontaminate the scene.
Deodorization: Any odors leftover from the biohazards will be eliminated using powerful deodorizers.
Continuous Monitoring: We will keep in contact with you throughout all steps of the cleaning process, managing the job effectively to ensure it is completed on time.
Insurance Assistance: We will coordinate the claims process with your insurance company.
Family Support and Assistance: Our professionals understand that many of these cases involve strong emotions, so we can connect families with professional counselors.
If there was a violent crime or accident that took place on your property, it's important to take immediate action by calling the authorities, followed by a professional biohazard cleanup service. Our technicians are licensed and available 24/7 to remove all biohazards, blood, and bodily tissues while restoring the property to its original condition.
Emergency Response
ServiceMaster Fire and Water Restoration provides professional biohazard and trauma cleanup services in Arvada, CO and is available at (303) 800-3404.
---
Recent Reviews
---
Review by Tjty James
Disaster Restoration
Rating

"Cassie and her crews were incredible. She truly made me feel like the patient who finally meets the doctor who can cure his or her ailment. She was prompt, knowledgeable, friendly and professional. Servicemaster is very fortunate to have such a wonderful employee."
---
Review by Courtney Clark
Disaster Restoration
Rating

"Super professional and on time. Recommend them to anyone."
---
Review by Joseph Steffens
Disaster Restoration
Rating

"Was moving out of my home and called ServiceMaster to clean our carpets. They did an amazing job and their technician was very detailed and a true expert! Would highly recommend this company."
---
See All Reviews