RestorationMaster
Natural disasters and other disastrous events can negatively impact businesses in the area. Fires, floods, and major storms may cost businesses money in damaged equipment, repairs to the building, and lost product. Businesses often must halt their regular business hours during the restoration process, so it is important that businesses hire a trusted disaster restoration professional to help limit the losses.
RestorationMaster offers commercial restoration services to assist businesses and commercial buildings suffering large losses in Tehachapi, CA and the surrounding areas in Kern County. We work quickly to restore your property and limit the damage so you can return to business as quickly as possible. Our professionals can restore damage from floods, fires, heavy storms, and mold, and we can provide reconstruction services to rebuild your property.
Commercial Water Damage Restoration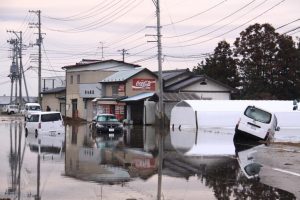 Flooding and excess water can seriously damage a commercial building because water spreads through building materials like wood, drywall, and flooring and ruins business equipment. If the flooded area includes computers or electronic equipment, there is a high risk of electrocution. All water damage, whether it is caused by flooding or a leak, needs to be addressed quickly to prevent additional damage to the building and business equipment.
At RestorationMaster, our experienced technicians are equipped to handle large scale flooding and any level of water damage in a commercial setting. We will assess the property and identify the source of the water right away. We will then repair the source and remove the excess water from your building. We will use our advanced dehumidification equipment to dry the affected materials and areas.
Commercial Fire Damage Restoration
Fires are such a dangerous disaster for commercial settings because they can cause intense damage and put the lives of your customers and employees at risk. Businesses should have regular fire evacuation drills, so your employees are familiar with the protocol if a fire does occur. After the flames are put out, contact a fire damage restoration professional to remove the lingering soot and smoke on your property.
Our professionals at RestorationMaster can efficiently perform every part of the fire damage repair process, including rebuilding serious structural damage and restoring the effects of soot and smoke. We will respond to your call quickly and stabilize the building immediately upon arrival. Our technicians will start the pre-cleaning process to prevent permanent etching and tarnishing, complete structural repairs, remove smoke doors, and restore damaged materials and areas. We can also restore equipment and electronics damaged by soot and smoke.
Commercial Reconstruction in Tehachapi, CA
Major structural damage may have more serious consequences for businesses because it forces them to suspend regular business activities during the reconstruction process. Our technicians at RestorationMaster has years of experience offering construction services to commercial buildings and businesses facing large loss. Our construction crew will assess the damage and create a reconstruction plan to restore your property to its original condition. The entire process will be overseen by a project manager, who will keep you informed every step of the way.
Contact Us
Contact our trusted professionals if your business in Tehachapi, CA, has experienced a natural disaster and you need disaster restoration services for commercial large loss. We will limit losses by working efficiently to contain the damage and restore your damage quickly. We have more than 50 years of experience with commercial building restoration and we complete our work according to the highest business, ethical, and quality standards.
Call us 24/7 at (661) 232-0021 for professional commercial restoration services in Tehachapi, CA, and the surrounding areas.
---
Related Commercial Large Loss Services:
Commercial Restoration Bakersfield, CA
Commercial Restoration Delano, CA