RestorationMaster
When it comes to a house fire, not many actually believe the disaster could really happen to them. But when it does occur, it can leave the affected individuals in ruins. The flames will consume anything in its path, leaving all affected materials covered in soot and smoke to cause further deterioration. This is not to mention the detrimental effect it can have on the health and safety of your family. However, RestorationMaster is available 24/7 to help with our emergency fire damage restoration services. We guarantee quality services to all affected individuals living in Salem, OR and the surrounding communities.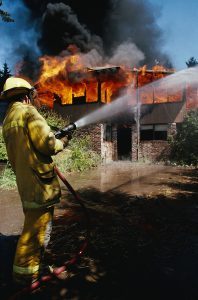 RestorationMaster considers all fire damage cases as emergencies; therefore, we are proud to provide 24/7 fire and smoke restoration services for being there when you need it most. Furthermore, it essential to call us immediately after the flames have been extinguished and everyone has safely evacuated the building. This is to not only treat and restore the affected area, but to avoid the damage from spreading to other rooms. With our powerful cleaning products, we guarantee an effective fire damage restoration of both building materials and personal belongings. With that, we are trained and experienced in providing quality fire damage restoration services to ensure your home provides a safe environment in the future.
Fire Restoration – What to Do
Call RestorationMaster to prevent etching and tarnishing within the affected materials from the soot and smoke byproducts.
If the temperature reaches above 60 degrees, allow for proper air circulation by opening windows and doors, as long as outside conditions are not wet.
Immediately remove the soot from the following materials: porcelain, Formica, chrome, and aluminum to prevent additional damage.
Dispose of any open food containers.
While the electricity is off, take out any open food containers from the refrigerator and freezer.
Place two layers of cheesecloth over the supply and return registers.
Change the furnace filter immediately if it using hot air.
Deliver any damaged clothing from the soot and smoke to a professional restoration dry cleaner.
Fire Damage Cleanup – What to Avoid
Do not try to wash the building materials as improper procedures can actually worsen the damage.
Do not try to restore any carpets yourself.
Do not touch any damaged materials that have been affected by the soot or smoke.
Do not use any electrical appliances without receiving clearance from the technician.
Do not turn on any ceiling fixtures, especially if the building materials are damp from the firehose.
Smoke Damage Cleanup
Even after the flames of the fire have been extinguished, the damage does not stop here. In fact, the majority of the fire damage is caused by the after-effect: the smoke. It is left to cover all affected surfaces including wood, drywall, paint, and other porous building materials. This can also produce a residue that becomes corrosive if left untreated. This is why we use specific chemical combinations to remove all soot and smoke residue from all surfaces. In addition, our technicians provide deodorization services to remove all lingering smells of smoke to ensure the safety for you and your family.
As soon as you experience a fire in your building or home, you must call RestorationMaster as soon as possible. This is to prevent excessive damage caused by smoke and soot to permanently ruin your affected furnishings. We are available 24 hours a day at 888-915-8868 for fire damage emergencies in Salem, OR and the surrounding areas.