RestorationMaster
(888) 915-7197
Not all types of mold are considered "bad." They are essential in our world as they decompose waste and other materials. They are actually doing us a favor – as long as they are not in our homes. Mold typically thrives in moist conditions on porous materials including drywall, cement, paint, etc. The structure of our homes provides a perfect feeding ground for this dangerous fungus to thrive. But these are not the only risks; mold can also have a severe effect on those with allergies and respiratory issues. They too are at risk in the presence of mold growth.
Mold Growth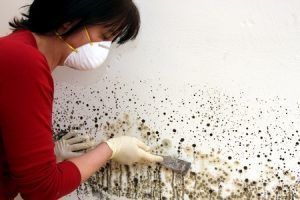 Because mold thrives off moisture, there is a higher chance of mold growth occurring after a home or building has sustained water damage. Mold growth feeds off the cellulose contained in building materials such as wood or drywall which can cause permanent damage. Cleaning up mold growth with home products can be dangerous and difficult, especially if it is hidden behind walls. This can only be done with effective, professional equipment which makes it important to call RestorationMaster right away to avoid taking the risks of harming sensitive individuals including children, the elderly, and pets.
Mold Restoration – What to Do
Call RestorationMaster in order to prevent the mold damage from spreading.
Dry off any items that may contain condensation, allowing the risk for mold growth to occur.
Allow for proper air ventilation throughout the property by opening the windows and doors, as long as outside conditions are not humid or moist.
Wear protection equipment when present around the mold, such as eye wear, breathing mask, and gloves.
Check the air duct system.
Lower humidity levels within your home by running the A/C unit or dehumidifier.
Mold Removal – What to Avoid
Do not disturb any visible mold.
Do not use bleach or any other house cleaning products to try to remove the mold.
Do not try to paint or caulk over any mold.
Do not touch any moldy surfaces as it can cause negative health effects by releasing its spores.
Mold Remediation
In fact, we never recommend cleaning mold yourself. Without identifying the kind of mold, it can be extremely dangerous to your health, not to mention easy to spread unintentionally to other areas of the home. The technicians at RestorationMaster specialize in eliminating all cases of mold growth with advanced equipment and products. Once your home is free of mold, we will repair or replace the affected materials while reducing the moisture level of the home to prevent mold growth from returning in the future.
While mold is essential in certain environments, it does not belong in houses or other buildings. It not only poses a risk to your home but to the health of your family as well. This is why it is important to call RestorationMaster right away for professional mold remediation services. We are available 24/7 at (888) 915-7197 in Salem, OR and the surrounding communities.