RestorationMaster
The shock and pain of discovering a biohazardous scene can be one of life's most traumatic experiences. In addition, coming into direct contact with any biohazardous materials is also a hazard to your health. But as soon as you encounter a biohazard scene, immediately call law enforcement and paramedics in order to gather all evidence. Then call the licensed professionals to handle the cleaning and restoration of the scene. RestorationMaster understands the severity of the situation, which is why we take a compassionate approach when providing biohazard, trauma and crime scene cleaning services in Salem, OR. Our technicians have the effective products and equipment to properly remove any biohazardous materials in addition to disinfecting the scene.
How to Handle a Trauma Scene
While it can be traumatic to discover a crime scene or environment filled with hazardous byproducts, it is important to handle the situation appropriately. First, you must immediately call the authorities and avoid any contact with the materials in order to guarantee the safety of your health. The contaminants at the scene can include tissues, bloods, and other bodily fluids that pose a dangerous risk if not disposed of properly.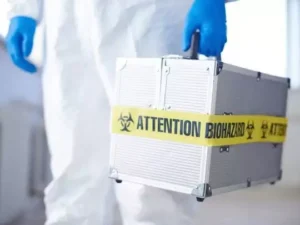 RestorationMaster is experienced and trained in dealing with biohazardous scenes, safely disinfecting all affected surfaces while preventing the risk of negative health effects; our effective cleaners and equipment will completely remove any blood and tissue while sanitizing the environment. Crimes scenes are unique in that they will need a specialized cleaning while working with the authorities as to not disturb any evidence.
Our biohazard and crime scene cleaning services include the following:
Certified Technicians: In addition to their training, our specialists are licensed to remove all biohazardous materials that have contaminated a trauma scene. We also work in accordance with government and state laws.
Family/Friend Support and Assistance: These cases prove to be very stressful, especially if a family has recently lost a loved one. In response, our technicians take a compassionate approach, working with respect in regards to the sentimental situation of the grieving family.
Help with Insurance: We will work with your insurance provider to allow the process to run as smooth as possible.
Frequent Inspection: We ensure ongoing communication as well as quality control in order to provide maximum efficiency.
Proper Disposal: After removing all biohazardous materials, they will be securely transported to a medical waste facility, where they will be disposed of properly.
Odor Removal: Our powerful deodorizers will take care of any lingering smells left behind.
Disinfection: All biohazardous materials will be completely removed, restoring the scene to a safe, healthy environment once again.
Our crime scene cleaning services cover the following:
Death cleanup
Major injuries and accidents
Violent crimes and homicides
Suicides
Car accident blood cleanup
Biohazards from hoarding
Upon discovering a trauma scene, it is essential to call the authorities and restoration professionals right away. RestorationMaster has years of experience when cleaning crime and trauma scenes. We understand the stressful situation, which is why we work with respect and compassion when providing our services. We are available 24/7 for biohazard, trauma, and crime scene cleaning at (888) 915-7197 in the Salem, OR area.