ServiceMaster Fire & Water Clean Up Services
It's extremely important to maintain a sanitary and clean home and business, especially during the coronavirus pandemic. As home and business owners take proper precautions to prevent the spread of bacteria, viruses, and other diseases, it's highly recommended to have the space professionally decontaminated and cleaned.
ServiceMaster Fire & Water Clean Up Services proudly provides disinfection and cleaning services in Lancaster, PA and the surrounding areas of Lancaster, York, and Dauphin Counties. Our professionals use EPA and CDC-approved, hospital-grade cleaning products as well as advanced cleaning and disinfection methods to fully disinfect homes and businesses.
We focus on high touch point areas, including desks, tables, chairs, phones, door handles, faucets, etc. Our disinfection professionals also follow protocols from environmental specialists to provide extra peace of mind.
In the past, ServiceMaster has handled many cleaning cases to prevent the spread of diseases similar to COVID-19, including SARS, Norovirus, and MERS. Our building disinfection methods have also been proven to keep your home or business free of the coronavirus. While this is a newly discovered disease, we know that we can keep your property safe while protecting our professionals using personal protective equipment (PPE).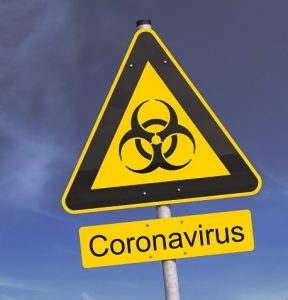 What is COVID-19?
COVID-19, or coronavirus, is a respiratory disinfection discovered in late 2019 in Wuhan, China. The term COVID-19 refers to each of the following abbreviations (CO) corona (VI) virus (D) disease and (19) 2019 – the year it was discovered.
The symptoms of coronavirus include difficulty breathing, fever, and a cough, although the symptoms will vary with each case. Those who are especially at risk include those with compromised respiratory systems and the elderly. COVID-19 spreads through human contact and touching contaminated objects, but it could take as long as 14 days for an affected individual to show symptoms.
For more information related to the coronarivus, please visit the CDC FAQ on COVID-19.
Disinfection and Cleaning Services Nearby in Lancaster, PA
Preventative cleaning and disinfection is one of the best ways to prevent the spread of coronavirus, according to the World Health Organization (WHO). Our sterilization method involves two steps, including disinfection and deep cleaning to ensure complete decontamination of your home or building. Our team focuses on high touch point areas during the cleaning service, including light switches, desks, countertops, phones, door handles, and more.
When cleaning your property, ServiceMaster Fire & Water Clean Up Services uses an advanced aerosol system to ensure that all dangerous pathogens and viruses are removed with EPA-registered, hospital grade cleaners.
We completely understand the sensitivity in regards to the cleaning process, which is why we remain professional and confidential to complete the cleaning. We will also share the disinfection and cleaning plan with you for some peace of mind during the disinfection.
Why Use a Sanitizing Company to Clean Your Property in Lancaster, PA

Each of our trained technicians holds years of experience in the cleaning industry, using both advanced cleaning methods and technology to rid homes and buildings of a number of dangerous pathogens that cause diseases and illnesses.
Our cleaning and disinfection company in Lancaster, PA, includes each of the following services:
Hospital-grade cleaning equipment: Each of our cleaners and disinfectants is hospital grade and can kill 99.9% of germs and pathogens for 30+ days.
Experienced team: Each of our professionals is fully trained and experienced to disinfect homes and buildings while following IICRC protocols.
Advanced technology: ServiceMaster Fire & Water Clean Up Services has worked with environmental specialists to develop the best cleaning and disinfection techniques for your protection. We use a two-step method in our disinfection process to fully remove dangerous bacteria and protect your family and employees from diseases.
Building Disinfection and Decontamination Services in Lancaster, PA
For a free estimate on our disinfection and cleaning services in Lancaster, PA and the surrounding areas, contact ServiceMaster Fire & Water Clean Up Services at (717) 622-2244.
---
Related Disinfection and Cleaning Services:
Sanitization and disinfection services in York, PA
Office and home disinfection services in Harrisburg, PA
---
Recent Reviews
---
Review by Kylie Irwin
Disaster Restoration
Rating

"They are very professional and caring people. Robert and his team did a great and through job. They are very detail oriented. The whole team explained everything that was gonna be done before it was done. I would recommend servicemaster to anyone they are wonderful company. Thanks to Abby and her husband Matt for going out of their way and making sure all services were called (air duct cleaning and laundry). They take pride in their company and it shows."
---
Review by Sally Russell
Disaster Restoration
Rating

"ServiceMaster is a professional first class service organization. When a fire occurred in my condominium ServiceMaster responded immediately- they were on the phone with me to help calm me down and reassure me that everything would be fine. They arrived first thing in the morning and handled the clean up professionally and with great care. Wonderful people and their work was outstanding. I highly recommend this company."
---
Review by Kerven Gerard
Disaster Restoration
Rating

"I had a hot water heater problem with water all over. ServiceMaster cleaned up all that and they did a good job. When they came in, they knew exactly what they had to do and went about doing their business. They were very nice, very quiet, and professional. They also came back and did all the follow-ups. If you have a problem, give them a call. They'll treat you right."
See All Reviews