ServiceMaster Fire & Water Clean Up Services
Disasters like floods, hurricanes, and earthquakes are all dangerous, but fires are among the most life-threatening due to their ability to start and spread quickly. While the flames will consume all combustible materials in their path, they can be extinguished with large fire hoses. Many property owners mistakenly believe that their property is safe. But the smoke and soot produced from the flames actually causes most of the damage, and it will become permanent without quick fire cleanup.
ServiceMaster Fire & Water Clean Up Services is available in Harrisburg, PA, and the surrounding areas to provide fire restoration services for homes and buildings. Our fire cleaning professionals are available 24/7 to respond to your call to conduct emergency pre-cleaning and provide structural repairs to prevent the damage from becoming permanent and reduce the risk of collapse.
We will then inspect the extent of the destruction, followed by developing the best fire restoration plan that allows for an efficient and effective process.
Why Fire Restoration in Harrisburg, PA, Needs to Happen Fast

When fires spread throughout the home, they cause two levels of damage: one from the fire and the other from smoke.
The flames will quickly destroy everything they touch, but the byproducts emitted from the burning of combustible materials can spread throughout the property for days, covering the remaining surfaces in a thick, oily residue.
As the smoke and soot will quickly cause permanent destruction, fire restoration and soot removal services must take place immediately.
When conducting fire restoration, it's crucial that the work is performed by professionals as the use of home remedies will only rub in the smoke and soot products, possibly even destroying them.
Watch ServiceMaster Video for more information on Water Damage Restoration Services
Experienced Fire Damage Restoration Nearby in Harrisburg, PA

When performing fire damage restoration, ServiceMaster Fire & Water Clean Up Services is fully licensed and IICRC-certified to use advanced products and equipment to remove oily soot and smoke from all surfaces.
As soon as we arrive at a fire cleanup site, we will conduct emergency pre-cleaning to save damaged items. Then, we fully inspect the property and provide a fire restoration plan.
During the fire restoration process, our fire cleanup professionals will take additional measures to prevent the damage from spreading by airing out the property. They will then prioritize all surfaces at risk of facing permanent damage by cleaning them first.
During the fire damage restoration project, team members will focus on providing structural repairs and replacing charred building materials with new installments.
Our fire restoration services in the Harrisburg, PA, area include each of the following:
Initial inspection of the damage, followed by developing a full fire restoration plan
Identification of the fire's source
All content and documents are removed from the property
All permanently damaged building materials and furnishings are replaced
Complete content restoration and deep cleaning of soot-covered surfaces
Deodorization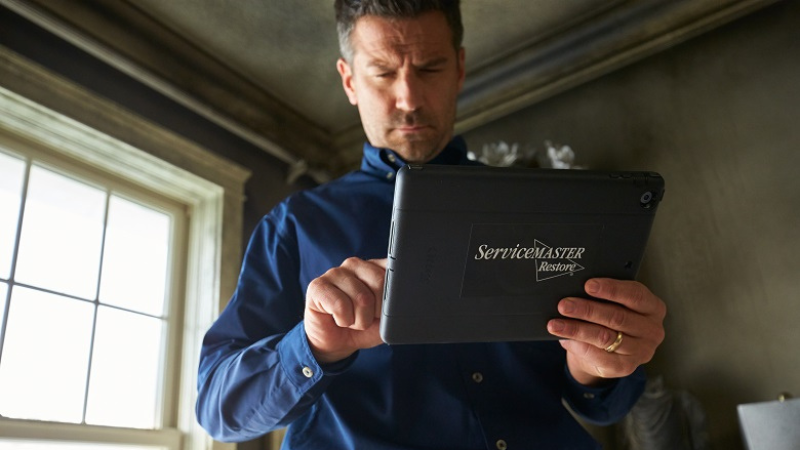 Fast Response Fire Damage Restoration in Harrisburg, PA

ServiceMaster works with all insurance providers, so your claim is always handled correctly. No job is too big for the professionals here at ServiceMaster Disaster Restoration. No matter your claim size, we are ready to assist and provide you with the best possible disaster recovery services available. For emergency fire damage restoration in the Harrisburg, PA, area, contact ServiceMaster Fire & Water Clean Up Services at (717) 622-2244.
Service Areas
Fire damage restoration company in Lancaster, PA
Fire restoration services in York, PA
Professional Smoke Damage Cleanup in Ephrata, PA
Certified Fire damage repair in  Hanover, PA
5-star Fire Damage Cleanup in Hershey, PA
Quality Fire Restoration in Elizabeth, PA
---
Related Fire Damage Problem Tips
Fire Safety Tips to Prevent Fires in Your Bedroom
Making your bedroom fire-safe includes practicing fire safety in all areas of the house.  The bedroom is critical because it contains essential household items such as clothing, jewelry, and other valuables.  It is also common to find flammable materials such as bedding, curtains, and furniture.  This makes it important to take preventative actions and form a fire escape plan when it comes to bedrooms.
Fire Safety Rules for College Campuses
Campus fires are common and can be prevented with proper fire prevention techniques. It is important to recognize the four primary triggers for campus fires: cooking, smoking, arson, and candles. If these primary causes can be avoided, other potential causes can also be avoided. Here are some fire safety rules.
What You Need to Know About Commercial Fire Sprinkler Systems
When flames erupt in a commercial space, the fire sprinkler system reduces the likelihood of extensive fire damage. Combined with a smoke alarm, essential to proper building maintenance and employee safety, the fire sprinklers offer businesses protection from catastrophic flames. Property owners may question the usefulness of fire sprinkler systems. Becoming aware of the value of commercial fire sprinkler systems is an important step toward ensuring proper building maintenance and employee safety.
---
Recent Reviews
---
Review by Kylie Irwin
Disaster Restoration
Rating

"They are very professional and caring people. Robert and his team did a great and through job. They are very detail oriented. The whole team explained everything that was gonna be done before it was done. I would recommend servicemaster to anyone they are wonderful company. Thanks to Abby and her husband Matt for going out of their way and making sure all services were called (air duct cleaning and laundry). They take pride in their company and it shows."
---
Review by Sally Russell
Disaster Restoration
Rating

"ServiceMaster is a professional first class service organization. When a fire occurred in my condominium ServiceMaster responded immediately- they were on the phone with me to help calm me down and reassure me that everything would be fine. They arrived first thing in the morning and handled the clean up professionally and with great care. Wonderful people and their work was outstanding. I highly recommend this company."
---
Review by Kerven Gerard
Disaster Restoration
Rating

"I had a hot water heater problem with water all over. ServiceMaster cleaned up all that and they did a good job. When they came in, they knew exactly what they had to do and went about doing their business. They were very nice, very quiet, and professional. They also came back and did all the follow-ups. If you have a problem, give them a call. They'll treat you right."
See All Reviews