As immediate restoration is required after a home or building has sustained severe damage, there can be many odors remaining on the property after the repairs have been made. These odors can include those from water damage, smoke damage, mold, biohazards, and more. While this is not only unpleasant to encounter, it can actually create safety hazards for you and other residing on the property, especially for those living with allergies or breathing problems.
However, ServiceMaster EMT is available in Garden Grove, CA to provide professional deodorization services for both residential and commercial properties. Our technicians have years of experience in using a number of different methods for effectively removing odors from a property, including: thermal fogging, Nano carbon technology, hydroxyl technology, and ozone technology. As these techniques prove to provide the highest quality services, they will effectively remove all traces of odors from your upholstery, furnishings, and air spaces.
Our odor removal services effectively remove the odors from the following: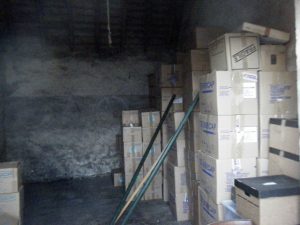 Our deodorization services effectively cover the following procedures:
Air scrubbing
Odor removal of air spaces
Removing the source of the odor
Documenting the odor removal process
Removing the odor from the affected structure and furnishings
The following types of odors will be removed with our services:
Water Damage-Based Odors: Mildew and mold can develop as a result of water damage that has not been treated within a certain amount of time. We will eliminate this odor.
Biological Based-Odors:While the odors from a trauma scene can prove to be unpleasant, our technicians will remove the odor and sanitize the affected area.
Smoke and Fire-Based Odors: Our cleaning products will remove all the odors produced by a property fire.
While odors are a natural occurrence because of damage or natural disaster, they can be extremely unpleasant to encounter. This is not to mention the health risks that may be involved as the air may be contaminated with bacteria or dangerous pathogens.
Contact Us
The only way to be safe is to call ServiceMaster EMT at (888) 767-9075 for professional odor removal services in Garden Grove, CA and the surrounding communities.
---
Related Odor Removal Services:
Odor Removal Services Orange, CA
Odor Removal Company Newport Beach, CA
Odor Removal Professionals Tustin, CA
Deodorization Services Henderson, NV
Deodorization Company Las Vegas and North Las Vegas, NV
---
September 23, 2021
Mohammad Anwar
Chino Hills, CA
More Reviews