In business, first impressions play a major role when it comes to developing a professional relationship. The same is true for the impressions left by your office space. If you operate out of a cluttered or poorly maintained environment, then prospective partners and clients will take notice. However, the contrary is also true, and this is why ServiceMaster Cleaning & Restoration offers commercial floor cleaning services for businesses in Cartersville, GA. We can bring life back to nearly any hard surface flooring, and help you make a tremendous first impression.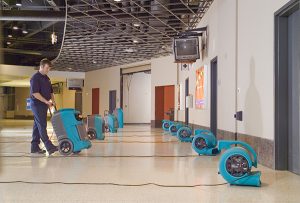 Whether your firm utilizes a large commercial building or smaller boutique space, it is important to ensure that your hard surface flooring lives up to the expectations of those that you do business with. The unfortunate reality with flooring is that no matter the material, everyday use will have an effect over the long term. Some examples of materials that we regularly work with include, but are not limited to:
Hardwood
Vinyl
Marble
Ceramic
Quarry
Despite the reliability and durability of the above materials and more, it is common for them to develop a worn-out look over time. This is generally due to an accumulation of dirt and stains caused by heavy foot traffic. Despite this, our advanced cleaning equipment and restoration methodology will bring your hard surface floors back to their original condition.
When you choose ServiceMaster Cleaning & Restoration for our commercial floor cleaning services, you can expect the following:
Timely Response and Open Communication: Our representatives are available 24 hours a day to take your call, and we will get a service team to your business as soon as possible. Throughout our cleaning process, we will keep you informed as to our plans and progress.
Minor Repairs: We identify areas with minor surface damage, such as scuff marks and scratches, and repair them.
Professional-Grade Cleaning: We proceed to utilize our deep cleaning process with our advanced sanitation equipment in order to remove dirt buildup and stains.
Stripping of Old Finish: We strip the old finish from your flooring so that we can prepare for resealing/refinishing.
Application of New Finish: We seal/finish all of the newly installed and cleaned flooring.
Final Inspection: We will perform a final evaluation to ensure that your hard surface flooring is left in a condition that is as good as new.
Even if you regularly sweep and mop your hard surface flooring, or have a dedicated custodial team in place to prevent damage and discoloration of your floors, it is often beneficial to still hire outside help. Our equipment and processes are state of the art, and can accommodate all types of commercial flooring.
If your business operates in the Cartersville, GA, area, and you have noticed a steady decline in the quality of your hard surface flooring, then we encourage you to take advantage of our commercial floor cleaning services. Our representatives are available 24 hours a day to take your call at (770) 679-2299, and we are more than happy to answer any questions you might have.
Recent Reviews
Review by

S.R..
Rating

"You were quick and in contact with me in a short time frame to let me know that you would be helping me and on the way to arrive at around a certain time.
---
Review by

B.H.
Rating

" I was pleased with how much better the air smelled after ozone fans, cleaning, etc. People were friendly. I would use Service Master again. Thank you."
---
Review by

B.S.
Rating

"The tech was very knowledgeable and professional. They worked very quickly with little to no interruption wo our daily life. Very impressed with the Josh my service tech.."