In the business world, first impressions can make or break you. This holds true on a personal scale, as well as for businesses as a whole. This is simply one of the many reasons why maintaining a clean and presentable office space is so important. We can assist you with this and more here at RestorationMaster through our office cleaning services. We offer recurring or single time cleaning services to businesses in and around Sugar Grove, IL, and will help your office space stand out from the rest.
Beyond First Impressions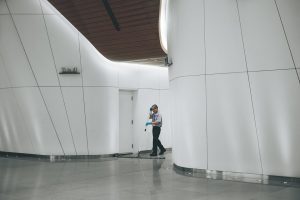 While leaving positive first impressions through a clean and orderly office should be a good reason to maintain a sanitary working environment, there are many other benefits to attacking clutter. One major advantage is cost savings.
It is a simple concept, but one often overlooked by many – clean and well-maintained appliances and furnishings will last longer than those that are neglected. This holds true because dust, dirt, and debris can discolor and deteriorate certain materials over time. Carpeting is a prime example of this, as are walls, sinks, and upholstery. Essentially, consistent cleaning will improve the operational life of your office space and furnishings, which should be reason enough to protect them.
Another benefit of maintaining a clean workspace is the health and well-being of employees and clients. In standard office environments, dust and other allergens can quickly spread if carpets are not regularly vacuumed, and desks, shelves, and light fixtures dusted. In settings where food is involved, keeping a clean environment is obviously vital to avoiding bacterial and other hazards. In any commercial setting, bathrooms must be kept clean in order to prevent the spread of illnesses. When you choose to take advantage of our office cleaning services, we will address these concerns, and more.
Our Commercial Cleaning Approach
RestorationMaster is a highly respected name in the sanitization industry because of the quality of our cleaning services. All of our personnel are highly trained, and our cleaning solutions, equipment, and methodologies are among the industry's best.
When you decide to work with us, the first things we will do are inspect your working space, discuss any specific requirements you have, and develop a plan of action. We will then continue by providing our customizable cleaning services. A few of the more common services we provide to businesses include the following:
Dusting and cleaning of light fixtures, desks, shelves, and countertops
Cleaning and vacuuming of carpets, hard surface floors, upholstery, and furniture
Sanitization of bathrooms, as well as their components (e.g. toilets, floors, stall walls, sinks, mirrors, hand drying equipment, etc.)
If your business is in need of office cleaning services, then we encourage you to give us a call at (630) 796-6252. Our RestorationMaster representatives can help you schedule one-time, weekly, bi-weekly, or monthly sanitization services. We assist businesses in the Sugar Grove, IL, area, and look forward to working with you soon.