714-975-8448
When a natural disaster strikes, it can be so destructive that it causes commercial properties to suffer significant losses and severe damage. With damage done to your property, supplies, inventory, and other items, you may need to temporarily close your business to repair the damage.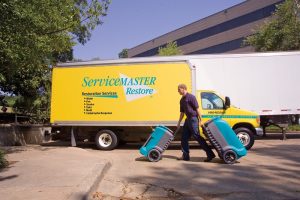 If a disaster occurs, your first priority is to ensure your employees and customers are safe. If necessary, call 911 right away. When you've ensured everyone's safety, turn your attention to property restoration. Immediate restoration is best because the sooner you begin restoration, the less damage your business will suffer.
With our commercial damage restoration services in Santa Ana, CA, ServiceMaster EMT can help businesses who have suffered damage by a flood, fire, mold, severe storm, or other disaster. We start restoration work promptly to limit the damage, getting you back in business as soon as possible. We will get your property back to its original condition and give your employees a safe and clean work environment to return to.
Commercial Restoration Santa Ana, CA
Beginning restoration work right away is the best way to limit the amount of damage and losses that your business experiences. The longer you wait to restore your business, the more damage that can be done. The more damage that is sustained, the longer you'll need to be out of business to repair the damage. This only increases your losses. Our technicians are aware of this which is why we work in an efficient manner. We want you to get back to business immediately, resuming your normal business operations. No matter the size of the building, we can restore your business to its previous condition.
In the event of a disaster, you need to check that your employees, customers, and other inhabitants are safe. Make sure there's an evacuation plan in place and that it's followed. Even after you ensure that everyone is safe following the disaster, you want to guarantee that they return to a safe work environment.
From water to mold to fire, our technicians can handle any damage and eliminate all dangerous materials that jeopardize anyone's safety. In addition to cleaning your building, we'll also improve the indoor air quality of the property so that your employees have cleaner air.
Commercial Water Damage Restoration
Water damage can be caused by numerous sources. Flooding and rain can cause your property to suffer water damage, and an internal problem like a leak or pipe burst can be an issue. No matter how it occurred, water damage is a disaster that you need to address right away. This is because any standing water and excess moisture will be absorbed by porous building materials and furnishings. This absorption then damages the materials and causes structural damage.
The technicians we employ at ServiceMaster EMT have the necessary training and equipment to contain any excess water and moisture, thus minimizing the amount of damage. With advanced water extraction and drying equipment, we will eliminate the standing water and excess moisture and restore the damage it has caused.
Commercial Fire Damage Restoration
When a commercial property is affected by a fire, it's very dangerous because the fire damages the property and puts people's lives at risk. First, there's damage from the flames, and then corrosive byproducts like smoke and soot cause secondary damage — even after the fire is out.
Our technicians provide fire damage restoration services that will repair/restore the fire damage and reverse the effects of smoke and soot. We know this damage can become permanent if not addressed soon enough, and we want you to get back to business promptly. This is why we work in an efficient manner to conduct restoration and cleaning.
Natural disasters are inevitable, and there may not always be something you can do to prevent their impact on your business. However, you can limit the damage and losses your business suffers by reaching out to ServiceMaster EMT for the commercial damage restoration services we provide in Santa Ana, CA. We employ well-trained, properly equipped technicians who will restore your commercial property no matter the size of the building and extent of the damage.
Available 24/7
ServiceMaster EMT can be reached on a 24/7 basis for the emergency commercial damage restoration services we provide in Santa Ana, CA, by calling (714) 975-8448.
---
Related Commercial Restoration Services:
24 Hour Emergency Services in Huntington Beach, CA
24 Hour Emergency Restoration Services in Santa Fe Springs, CA
Large Loss Restoration Services in Lake Forest, CA
24 Hour Water Fire and Smoke Restoration Services in Los Angeles, CA
Emergency Restoration Services in Anaheim, CA
More Reviews