When renovation, restoration, and general construction work is completed on your property, the aftermath can be bittersweet. While the structural elements and final deliverables are finished, dirt and debris, and sometimes even nails, screws, and other sharp objects, are often left behind. If this happens to you, we encourage you to contact us here at RestorationMaster. Our post construction cleaning services are designed to clean up and sanitize recently completed construction sites. We offer this service to home and business owners in and around Wheaton, IL.
Your Safety is Our Priority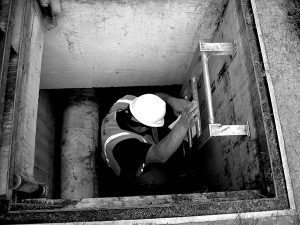 It is an unfortunate reality that many construction and restoration companies will fail to adequately clean up after themselves following a project. There are many factors behind this, but the primary reasons stem from the fact that they utilize a lot of small, sharp equipment, do substantial cutting, and are trained more to provide quality craftsmanship than to clean up everything left behind. That being said, our RestorationMaster cleaning professionals are specifically trained to clear your property of hazardous debris and materials.
In addition to nails, sheetrock, and other harmful debris, it is important to be conscious of the dust and dirt created, as it can settle throughout your home or office space. This can drastically reduce your building's air quality, and even accumulate within your HVAC system (resulting in future problems). Essentially, if you do not properly clean affected areas, you run the risk of triggering allergies and other respiratory issues well into the future. To prevent this, we will meticulously clean the construction site in its entirety.
Our Approach
RestorationMaster is the premier residential and commercial property cleaner in Wheaton, IL. This is due to the superb training of our cleaning professionals, as well as our state-of-the-art sanitization equipment, solutions, and methodologies. Our processes are based off of years of experience, and will truly leave your property in a safe, sanitary condition following any amount of construction work.
While there are seemingly endless tasks that can be completed to clean up after a construction project, the following points should give you a firm understanding of what to expect from our services:
Scrupulous dusting of the entire jobsite and surrounding areas
Paint overspray cleaning
Dusting and cleaning of light fixtures
Ceiling and wall cleaning
Bathroom fixture cleaning
Appliance cleaning
Vacuuming and stain treating of carpeting and upholstery
Interior window cleaning
Hard surface floor mopping
We understand that it can be frustrating to hire professional cleaners right after working with construction personnel; however, it is to your long-term benefit. We aim to make the process as painless as possible for you, and substantially reduce the risks of any future surprises.
If you would like to take advantage of our post construction cleaning services, please feel free to contact our RestorationMaster representatives at (630) 796-6252. We are happy to address any questions or concerns that you may have, and proudly service home and business owners in Wheaton, IL.