Changing homes or office spaces can be a hectic and exciting time. Many memories will be left behind, and many more will be made. There will undoubtedly be a lot on your mind during this time, but it is important to remember to clean up after yourself, and sanitize your new home or workspace before unpacking all of your belongings. The former is a common courtesy to whomever purchased your prior property, while the latter will ensure a clean living or working space for you, your loved ones, and/or your employees. We tackle both of these through our move in/move out cleaning services here at RestorationMaster for home and business owners in Wheaton, IL.
In many cases, when personal and professional belongings are packed up and moved, there are areas left behind that have not been cleaned in years. Beneath and behind furniture and appliances are common disaster zones, and so are shelving, windowsills, baseboards, ceiling light fixtures, and more. Failing to properly sanitize these areas can result in a variety of allergens, bacteria, dirt, and debris getting left behind and released into the air. Furthermore, dust, dirt, and debris can discolor and deteriorate a number of fabrics and materials if not addressed.
Complete Move In/Move Out Cleaning Services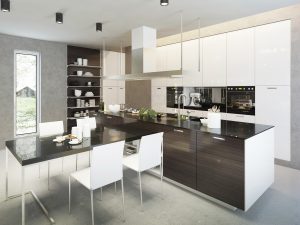 RestorationMaster is a trusted name in home and business cleaning because of our exemplary cleaning professionals, and proven sanitization methodologies. This includes the utilization of industry-best cleaning equipment and solutions to ensure a quality result.
We begin our move in/move out cleaning services by assessing your property, and developing an appropriate plan of attack. We take into consideration any specific requests you have, as well. We then proceed to make use of our specialized cleaning products and equipment to remove dust, dirt, debris, bacteria, and any other lingering nuisances.
To gain a better understanding of the specific items that we address in both residential and commercial cleaning scenarios, please see the following:
Living Rooms and Bedrooms: These areas generally have similar layouts and furniture within them. You can expect a thorough cleaning of hard surface floors and carpeting, dusting of closets, ceiling fans, and light fixtures, and washing of hard to reach baseboards.
Kitchens: Any areas in which food is prepared or consumed should be fully cleaned in order to reduce the risks of illness. Our services will leave you with sanitized countertops, stoves, ovens, and refrigerators, as well as cleaned cabinets, pantries, and flooring.
Bathrooms: Restrooms can be a hotspot for germs and bacteria if they are not properly sanitized. We will address this by scrubbing toilets, sinks, and showers, cleaning out tile and grout surfaces, vanities, and medicine cabinets, and wiping down mirrors. We even provide full deodorization services.
Moving into a new home or office space is a great opportunity to clean areas that will soon be covered by personal and professional belongings. If you would like to take advantage of our move in/move out cleaning services, please feel free to give us a call at (630) 796-6252. Our RestorationMaster representatives are always happy to take your call, and will schedule appointments for home and business owners in the Wheaton, IL, area.