The presentation and overall cleanliness of your office space is critical to maintaining positive employee morale, as well as good impressions from clients and business partners. Just like in your home, it can be easy to allow dust to gather and items to clutter in your workplace. RestorationMaster offers complete office cleaning services to address this. Our cleaning professionals are among the best and most experienced in the industry, and will thoroughly clean carpets, ceiling fixtures, walls, and everything in between. We provide this service to businesses in the Wheaton, IL, area.
The Importance of a Clean Office Space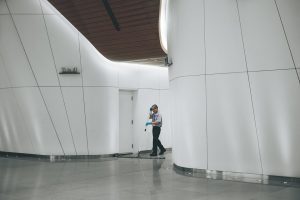 There are many benefits to keeping a clean office space, but the primary reasons include the health of employees, overall appearance, and costs.
The health and wellbeing of employees can be dramatically affected by how sanitary their working space is. This is because of the long hours in which they are exposed to any allergens or bacteria that are present. When individuals do fall ill, their productivity, and oftentimes morale, will decrease for that period of time.
As far as simple appearances go, this is obviously important for any clients or business partners entering your workspace. It also leaves an impression on employees when they see a neat and tidy office versus the opposite. Over time, dust, dirt, and debris will begin to gather. This can be devastating for carpeting and upholstery, as the debris can cause discoloration and deterioration. Discoloration can even occur on walls, in sinks, and around other areas. Additionally, it is obviously less than appealing to see dust caked on light fixtures and atop counters and shelves. We address all of this and more here at RestorationMaster.
Lastly, as far as costs go, failing to clean and maintain furniture, carpeting, appliances, etc. can drastically reduce their operational lives. This will leave you with greater costs over the long-term that are unnecessary. Instead of allowing materials to deteriorate, it pays to address them regularly.
Our Approach to Commercial Cleaning Services
Our RestorationMaster cleaning professionals are highly trained in all aspects of home and office cleaning, and will utilize state-of-the-art sanitization equipment, solutions, and methodologies to fully clean your workspace. We will first inspect the premises, and discuss specific requirements with you, in order to develop a cleaning plan. We will then provide our customizable ceiling to floor sanitization services.
To gain a better understanding of the cleaning services that we typically provide in commercial settings, please see the general outline below:
Dusting of all furniture and fixtures
Vacuuming and cleaning of carpets, hard surface flooring, furniture, and upholstery
Cleaning of desks, countertops, and shelves
Sanitization of bathrooms and their appliances/furnishings (floors, toilets, stall walls, sinks, mirrors, etc.)
Maintaining a clean office space is paramount in today's business world, which is why we encourage you to utilize our one-time, weekly, bi-weekly, or monthly office cleaning services. Our RestorationMaster representatives are available at (630) 796-6252, and are happy to set up an appointment for you. We proudly service business owners in and around Wheaton, IL.