After a long week of work, traveling, and looking after kids, it can be difficult to maintain a consistent household cleaning schedule. This is why we offer customizable home cleaning services here at RestorationMaster to homeowners in Wheaton, IL. Whether you need one-time sanitization services or recurring visits, we can handle all of your cleaning needs. This includes everything from dusting and vacuuming to scrubbing appliances and more.
Complete Home Cleaning Services
RestorationMaster cleaning professionals are specifically trained to handle all of your home cleaning needs. Pair this with our state-of-the-art sanitization solutions and equipment, and you can see why we are one of the most trusted brands in the industry.
Our household cleaning services can be completely customized to fit your requirements. All you need to do is direct our cleaning professionals to the areas of your home that require attention. If you have any specific requests, simply let them know, as well. We address living rooms, bedrooms, kitchens, bathrooms, basements, accompanying furniture, and everything in between.
Living Room and Bedroom Cleaning
Living rooms and bedrooms are often designed and maintained in similar ways. For a better understanding of what we will focus on through our cleaning services, in addition to your specific requests, please see below:
Remove cobwebs and thoroughly dust the room (this includes dusting light fixtures, ceiling fans, shelves, furniture, picture frames, and other accessories)
Vacuum and treat stains in any carpeting, and wash hard surface flooring
Vacuum and clean furniture
Empty any garbage or recycling bins
Kitchen Cleaning
Kitchens are obviously an important room to keep clean because of the food prepared and consumed within it. You can expect the following from our kitchen cleaning services:
Thorough cleaning of appliances, cabinets, tables, chairs, and other furniture
Complete sanitization of sinks, backsplashes, and countertops
Wiping down of stovetops and refrigerator exteriors
Elimination of tough to remove debris within ovens and microwaves
Floor mopping/washing
Bathroom Cleaning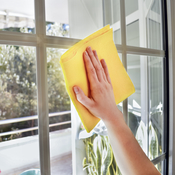 Cleaning bathrooms can be a nuisance due to the bending and scrubbing involved, as well as the simple unpleasantness of certain appliances. We address the following and more through our bathroom cleaning services:
Scrubbing of your sink, bathtub, and shower
Sanitization of your toilet, vanities, and backsplashes
Wiping down/polishing of any mirrors and chrome fixtures
Tile, floor, and wall washing
Complete deodorization
Additional Home Cleaning Services
The following will give you a better understanding of the types of services we can provide:
Wall and baseboard washing
Cabinet cleaning
Window washing
Basement cleaning
Furniture and accessory cleaning
Packing and unpacking assistance
Post construction cleaning
If you are in need of one-time, weekly, bi-weekly, or even monthly home cleaning services, we encourage you to give us a call at (630) 796-6252. Our RestorationMaster representatives are happy to answer any of your questions, and schedule appointments. We proudly service homeowners in Wheaton, IL.