Kitchen cabinets are designed to provide a suitable storage space for pantry items, dishes, utensils, silverware, and other kitchen odds and ends. In recent years, however, the cabinets have become prominent features of the kitchen interior design – they come in a large variety of designs, finishes, and colors and create a big impact on the overall style and appearance of the room. Therefore, when the cabinets get damaged or start showing extensive signs of wear and tear, the appeal of your kitchen diminishes considerably as well. You need to take efficient measures to preserve the value and the charm of your kitchen décor. Complete replacement of the cabinets is, of course, a viable solution, but it is very expensive and involves a lot of hassle and inconvenience. In fact, most of the time it is not necessary at all as the cabinet boxes are still intact and it is only the surfaces and the facades that need renewal.

Furniture Medic by Bob Llorente offers an efficient and affordable alternative to homeowners in Baytown, TX, and the surrounding areas – kitchen cabinet refacing and refinishing services. Our experienced craftsmen can repair or replace damaged cabinet doors and restore drawer fronts without dismantling the cabinet boxes, saving you the time, effort, and money required for full replacement. We can also refinish and/or repaint worn out surfaces to restore them to their original beauty or to give them a contemporary new look.
Kitchen Cabinet Refacing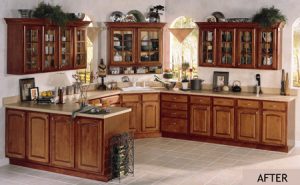 When fully remodeling your kitchen, you will certainly want brand new kitchen cabinets that match the latest fashion trends in interior design. If you just want to improve your kitchen décor, however, replacing the existing cabinets is not worth the troubles involved – removing the entire frames together with the cabinet doors and drawer fronts installed on the boxes is a very difficult, expensive and highly intrusive process.
So, unless the cabinet boxes themselves have sustained severe damage (which happens very rarely), kitchen cabinet refacing is your most beneficial option. Furniture Medic by Bob Llorente provides quality kitchen cabinet refacing and refinishing services in Baytown, TX, to reverse the wear and tear, restore the gorgeous look and feel of the cabinets, and enhance the value of your kitchen in a convenient and cost-effective way. Our skillful craftsmen can replace or repair damaged cabinet doors and drawer fronts without removing the boxes. The process is quick, inexpensive, and unobtrusive. You can have your kitchen cabinets restored to their original condition or refinished in a different color, style, or finish for an entirely new appearance. The new custom doors and drawer fronts come in a wide range of styles and finishes made from wood or Rigid Thermofoil (RTF) to perfectly match any individual needs and preferences. The end results are always stunning!
Kitchen Cabinet Refinishing and Repair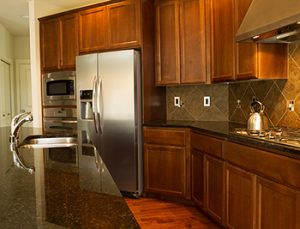 Minor surface damage, faded colors, and worn-out finishes can be easily restored by experienced craftsmen who have the appropriate equipment and the professional know-how required to complete the job in a highly efficient manner. Our experts can successfully repair dents, scratches, gouges, replace broken hardware parts, remove stains and other surface blemishes, and restore the luster of your old kitchen cabinets to revitalize them and prolong their life. As already mentioned, you can have the original finish restored to an excellent condition or choose a completely different color and/or type of finish for your renewed kitchen cabinets.
If you want to enhance the practical and aesthetic value of your kitchen without much hassle and difficulty, consider using professional kitchen cabinet refacing and refinishing services. Your old cabinets will be fully refurbished, repaired, and revitalized to suit your personal preferences and increase the overall appeal of your kitchen décor. Call Furniture Medic by Bob Llorente at (409) 356-4553 for expert kitchen cabinet refacing and refinishing services in Baytown, TX, and the surrounding areas.