Mold growth presents a rather complex problem because it is caused by excess moisture, leads to extensive property damage if it is not contained, and increases health risks such as allergies and infection to those that are exposed. These factors make it important to have mold removed from your home or building right away and it is best to call a professional to do the job. RestorationMaster provides mold remediation services for homes and businesses in Cleveland, OH and the surrounding area. We are trained and certified to completely remove mold growth from homes and buildings and we will take steps to ensure that it does not return.
Mold Remediation Services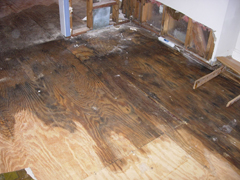 It can be difficult to completely remove mold once it starts growing and even harder to prevent it from coming back which is why you should contact a certified mold remediation professional such as RestorationMaster. We have the proper training and equipment to remove all mold growth, including that hidden in wall cavities, and we will also find and repair the moisture source that caused the mold to grow. You should not attempt to remove mold yourself and instead contact RestorationMaster for the following reasons:
Speed of the mold growth: All mold needs to grow is a moisture source and food source and once it starts growing, it will only keep spreading until it is removed.
Mold causes extensive damage: Mold can spread to any area of a building and cause damage to the surfaces it grows on as well as any structural element it attaches to.
Visible mold may be the tip of the iceberg: Mold grows in hidden areas of a home such as in wall cavities, inside air ducts, behind wall panels, and other out of sight locations which means that the visible mold growth may just be part of the problem. Our technicians can discover hidden mold by testing the building.
Removing mold can be hazardous: Allergic reactions can be caused by small amounts of mold and mishandling mold will cause it to release more spores and increase the health risks. We can keep the mold confined to the affected areas as we work.
Once you notice mold growing in your home or business in Cleveland, OH, contact RestorationMaster immediately for mold remediation services. We will respond within a few hours of your call and our technicians are highly trained and dedicated to completely removing mold according to national standards. You can call us at (440) 799-6661 for a free estimate for our mold remediation services.