[call](281) 916-1699[/call]
In Baytown, TX, residential and commercial property owners should be concerned about the possibility of mold growth in their buildings. It is a relatively common scenario in the community that can lead to a number of complications if left unaddressed. Mold can literally feed off of building materials and belongings to cause damage, and even result in health complications for anybody on-site. At ServiceMaster Bay Area, we offer complete mold removal services to not only identify and remove cases of mold growth, but prevent it from returning in the future, as well. Our specialists will address the cause of the excess moisture in your building that led to the growth of mold and return your property to its original condition.
Mold Growth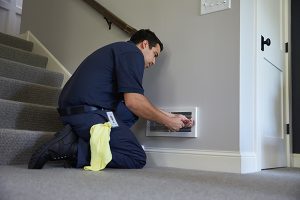 For mold to grow, it really just needs two things: an organic food source and excess moisture. This is problematic because building materials (like wood and drywall) contain cellulose, which is a natural food source for mold. That just leaves the need for excess moisture for mold to appear, which makes it apparent why mold growth is such a common issue.
Damage from mold growth can occur to both your property and health. For example, it can feed off of certain structural elements of your building and put the stability of your property at risk. It can also ruin a number of belongings if you are not careful, such as furniture and personal items. Beyond this, mold has the potential to severely impact the health of those on the property. Allergies, skin irritation, coughing, asthma attacks, and respiratory infections are all documented results of exposure to mold.
Professional Mold Removal Services
Taking advantage of professional mold removal services is the best way to eliminate mold from your property. This is because mold spores can spread if the mold is treated improperly. This is the primary reason why we encourage you to contact our ServiceMaster Bay Area representatives instead of attempting to remove the mold yourself.
When you choose to utilize our services, you will benefit from industry-leading mold removal expertise and methodologies. Our technicians are specifically trained and certified to respond to these issues and will return your property to its original condition. Our entire process goes as follows:
We perform a thorough initial assessment to locate all mold on your property
We contain instances of mold growth to prevent it from spreading during our operations
We remove excess moisture from your building, and fix whatever problem caused the moisture problem in the first place
We make use of our advanced mold removal equipment and procedures to eliminate the mold
We seal porous surfaces to mitigate the risk of mold returning in the future
We perform a final inspection to ensure that all mold has been eliminated
To take advantage of our mold removal services, simply contact our representatives at (281) 916-1699. At ServiceMaster Bay Area, we are proud to assist property owners in the Baytown, TX, community. No matter the scale of the damage, we will return your property to its original condition.