ServiceMaster Fire & Water Clean Up Services
Homes and buildings of all shapes and sizes are never safe from water damage. This is what makes it the most common natural disaster. Everything, including rain, appliance leaks, burst pipes, natural flooding, overflows, and more, can result in severe issues over time.
As soon as you find water on your property, don't hesitate to get water restoration experts on the site quickly.  If not acted upon fast enough, the water will spread to surrounding areas and can soon cause warping, rotting, staining, and structural damage.
ServiceMaster Fire & Water Clean Up is available in York, PA, and the surrounding areas to provide water damage restoration services for both homes and buildings. Our water restoration professionals are both trained and experienced to respond immediately to all cases. They will extract standing water from floods while setting up drying equipment to remove all remaining moisture.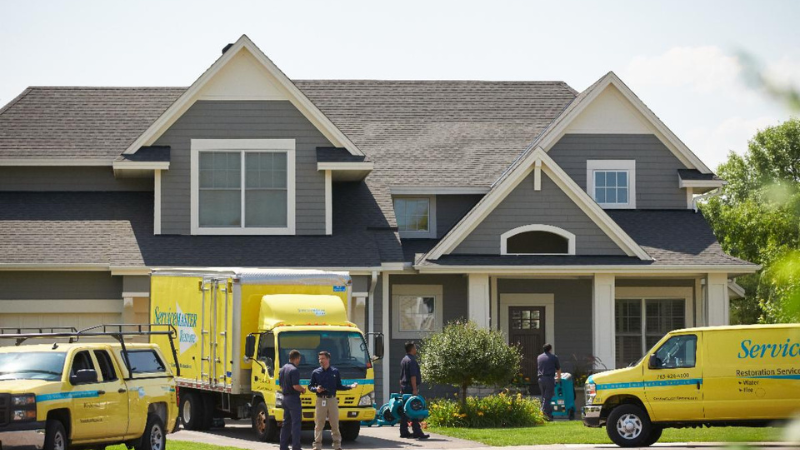 Why Water Damage Repairs in York, PA Need to Happen Quickly

No matter how far it has spread, all cases of water damage must be considered an emergency. This is because the water will flow to the area of least resistance, flowing through porous materials like insulation, furnishings, wood, flooring, and more.
But as the building structure and furnishings absorb more water, they become weakened, warped, and rotten. Water damage repairs are needed as soon as possible to prevent the worst-case scenarios such as collapse or rot.
Without immediate water damage restoration, mold will also start to grow in as little as 24 hours, which can be very difficult to remove.
When mold grows, it will disperse its spores into the breathing air, triggering a number of breathing and allergy issues for everyone on the property. When mold disperses its spores, the spores are attracted to other areas with high moisture content, where they will grow into more mold colonies.
This can also result in severe structural damage if the problem isn't handled quickly by water restoration services.
How to Approach Water Damage Restoration in York, PA
If you have standing water in your basement, your kitchen has flooded, or perhaps the rain has penetrated areas in your home, there are steps you can take before water restoration professionals arrive.
Water ServiceMaster for more information on Water Damage Restoration
Remember that any case of water leaking or flooding in your home or business should be considered an emergency. Call a water damage restoration company first and foremost before applying any of the above methods.
The sooner you call a disaster restoration company; the more can be saved and salvaged by professional water damage repairs.
The Water Restoration Process in York, PA

Our water mitigation crew at ServiceMaster Fire & Water Clean Up is fully trained to provide water damage restoration services. They are available 24/7 and will respond right away to your first call, arriving on-site with the necessary drying equipment to start the water restoration process.
They also use perfected flood cleanup methods and advanced products to inhibit any mold or bacteria growth. As soon as the area is dried out by flood restoration specialists, we will provide structural repairs and/or mold growth if needed.
Our water damage restoration services in York, PA, include the following:
Water extraction to prevent the damage from spreading
Flood cleanup services any hour of the day
Dehumidification to remove the remaining moisture from the air spaces and building materials
Water damage repairs to affected structural materials
Complete remediation services to prevent mold growth
Contact ServiceMaster Fire & Water Clean Up Services for Water Restoration in York, PA

When your home is damaged, we fix it. Our expert restoration team will assess your damaged property and provide you with a free estimate. ServiceMaster works with all insurance companies and even help you file the claim. We are in the business of making your life easier when it comes to restoring your home or business.
Don't hesitate to contact ServiceMaster Fire & Water Clean Up at (717) 622-2244 for professional water damage restoration services in York, PA, or the surrounding areas.
Service Areas:
Water mitigation in Lancaster, PA
Water extraction in Harrisburg, PA
Water Damage Repair in Elizabeth, PA
Water Extraction in Hershey, PA
Water Damage Cleanup in Hanover, PA
Flood Restoration in Ephrata, PA
---
Tips for dealing with and preventing water damage
Steer Clear of Weather-Related Pipe Bursts: Tips & What to Look For This Winter
Although taking the proper steps to make sure your home or business is safe is highly beneficial in preventing pipe bursts, it doesn't always preclude you from experiencing this awful disaster. This article will explain why cold temperatures are a cause for concern, what to watch out for, and tips on how to help prevent pipe bursts.
Sandy has shaken up much of the East coast the past couple of days. Millions have lost power, and thousands of homes have been flooded. Many people may have chosen to stay put and wait out the storm while others evacuated. Either way, returning home and cleaning your property can be enormous after a hurricane.
Flood and Storm Damage Can Cause Large Losses
No matter what area of the country you live in, you have probably witnessed this scenario. You are enjoying a clear day with a light breeze and few clouds in the sky. Then dark clouds start rolling in, the wind picks up, and the next thing you know, you are running back inside to find cover from the impending storm. Severe storms can happen pretty quickly, and the damage they cause to your house with flooding or with strong winds and hail can result in thousands of dollars of losses. It is important to react quickly following a storm or flood and contact a restoration professional for storm damage or flood damage restoration services to minimize your losses.
---
Recent Reviews
---
Review by Kylie Irwin
Disaster Restoration
Rating

"They are very professional and caring people. Robert and his team did a great and through job. They are very detail oriented. The whole team explained everything that was gonna be done before it was done. I would recommend servicemaster to anyone they are wonderful company. Thanks to Abby and her husband Matt for going out of their way and making sure all services were called (air duct cleaning and laundry). They take pride in their company and it shows."
---
Review by Sally Russell
Disaster Restoration
Rating

"ServiceMaster is a professional first class service organization. When a fire occurred in my condominium ServiceMaster responded immediately- they were on the phone with me to help calm me down and reassure me that everything would be fine. They arrived first thing in the morning and handled the clean up professionally and with great care. Wonderful people and their work was outstanding. I highly recommend this company."
---
Review by Kerven Gerard
Disaster Restoration
Rating

"I had a hot water heater problem with water all over. ServiceMaster cleaned up all that and they did a good job. When they came in, they knew exactly what they had to do and went about doing their business. They were very nice, very quiet, and professional. They also came back and did all the follow-ups. If you have a problem, give them a call. They'll treat you right."
See All Reviews