RestorationMaster, Rochester NY are experts in extracting water from your home.  Their team of professionals are on call 24/7 with any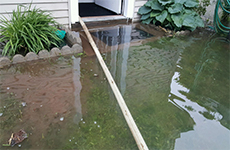 restoration needs you may have.  Since water damage can happen within 48 hours, acting quickly is vitally important to keeping your home safe and secure.
There are many ways that excess water can enter your home or building including leaky pipes, floods, water heaters, and broken sump pumps, and it causes damage that can spread through your home rather quickly.  Excess water can stain drywall, floors, carpeting, and furniture and it can also lead to mold and mildew growth that causes further damage and health issues.  RestorationMaster in Rochester, NY provides water damage restoration services to extract excess water and restore the damage it caused to your home or building.  We are available to provide water damage cleanup services 24 hours a day to help mitigate the damage.
Our team at RestorationMaster provides high speed structural drying services to restore water damage in commercial and residential settings.  It is important to contact us for water damage restoration immediately because the porous materials in your home will continue to absorb the water, causing structural damage and harboring bacteria and mold growth.  The specific water damage restoration services we provide include: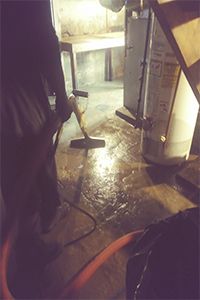 Water and moisture removal
Drying and dehumidification
Structure and content restoration
Disinfection of damaged areas
Mold and mildew removal
Odor removal
Content cleaning
Deep cleaning for carpets and upholstery
Water Damage Cleanup Process
Each of the technicians of RestorationMaster is IICRC certified to handle any size water damage restoration project.  We use the most advanced industrial equipment to dry, deodorize, and disinfect your property with the Dri-Eaz technique which emphasizes drying everything in place before removing or replacing structural elements.  Our water damage restoration process includes the following steps:
Determining the amount of moisture in your home with moisture detectors.
Removal of the water with truck mounted extraction units.
Removal of moisture from the air using hi-tech drying equipment and dehumidifiers.
Create airflow with high-speed air movers to help the drying process.
Odor removal and disinfection with sanitizing agents, germicides, anti-microbial, and deodorization products.
Before \ After Water Damage Restoration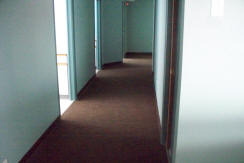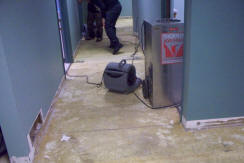 Do not hesitate to contact RestorationMaster for water damage restoration services in Rochester, NY as soon as you discover the damage.  Water damage can spread quickly through your home and if you call fast enough, we can remove the excess water before it causes other problems such as mold growth.  We are available 24 hours a day at 585-643-6222 to respond to your emergencies.