One of the major causes of water damage in your home or building is flooding and it is important that floods are treated differently than other types of water damage because they may involve sewage.  Flood water with sewage will not only cause extensive damage to your furniture, walls, and carpeting, but it also raises health risks with dangerous bacteria and toxins.  RestorationMaster provides flood and sewage cleanup services in Rochester, NY to remove flooding and sewage backup from commercial and residential settings.  We are available 24 hours a day to respond to emergency flooding situations.
Flood Damage Restoration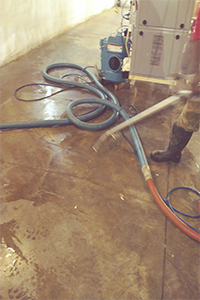 Sometimes flooding within a home or building is caused by heavy rains or a severe leak which does not have the added health threat of raw sewage, but it still requires immediate attention.  Flood waters can stain your floors, walls, and furnishings and RestorationMaster provides high speed structural drying services to remove the excess water and restore the flood damage.  Our technicians are IICRC certified to remove flood water using the most advanced equipment of the industry.  Our flood damage restoration services include:
Extraction of the flood water using industrial equipment.
Drying of the carpets and walls.
Disinfection of all affected areas.
Deep cleaning of the carpet and furniture.
Sewage Cleanup Services
If the flood water contains raw sewage, then it is necessary to take special precautions when cleaning up the damage.  Sewage contains bacteria that can cause adverse health reactions and lead to mold and mildew growth which will ruin the furnishings and structural elements of your home.  It is important to call RestorationMaster for sewage cleanup because our professionals can properly clean up the mess using protective equipment, specialized cleaning products, and advanced cleaning equipment.  Our sewage cleanup process includes:
Removal of sewage overflow using water extraction systems.
Removal of contaminated porous material including carpet and carpet padding, drywall, insulation, and molding.
Disinfection of contaminated, non-porous surfaces with cleaning agents and antimicrobials.
Deep cleaning of carpeting or upholstery that can be salvaged.
High speed drying with dehumidifiers.
Deodorization of affected area if necessary.
If you discover flooding in your home or building in Rochester, NY, whether it contains sewage backup or not, you should contact RestorationMaster immediately for flood cleanup services.  We will remove the excess water and take special precautions if the flood water contains sewage to restore your home or building to its previous condition.  We are standing by 24 hours a day at 585-643-6222 to respond to flood and sewage backup emergencies in Rochester, NY.