[call](585) 643-6222[/call]
With the severe cold and harsh winters that hit the Rochester, NY, area, the potential for frozen pipes is high. When temperatures are cold enough, water inside pipes freezes and expands. As the water turns into ice and expands, it puts pressure on the pipes, forcing the pipe to burst open. When the pipe bursts, water enters your home and causes extensive water damage.
RestorationMaster provides frozen pipe damage restoration for Rochester, NY, and the neighboring areas to help clean up and restore properties in the aftermath of burst pipes. Our professional technicians will tend to the damaged areas by extracting the water, drying the space, and restoring what has been damaged.
Frozen Pipes in New York
With the harsh cold that hits the Rochester area in the winter, it's important to keep an eye out for frozen pipes on your property. This is because when pipes freeze, they usually burst and spread a large amount of water in your home.
In the event that a pipe on your property does burst, the water needs to be turned off right away. Once you've done that, call us for help. We will use our specialized equipment to remove standing water and moisture from damaged materials, such as drywall, furnishings, and wood. After this, we restore damaged areas and make sure no mold growth has occurred. To prevent water damage from worsening, it is essential that you act immediately, because with more time, water will spread further and cause additional damage.
Preventing Frozen Pipes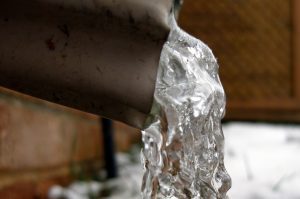 Just because cold temperatures are inevitable doesn't been frozen pipes are, too. You can take steps to prevent your pipes from freezing, thus preventing them from ever bursting. By doing the following, you can avoid frozen pipes:
Let your faucets drip to allow constant water movement within the pipes.
Open cabinet doors beneath sinks to allow those pipes to be heated.
Use electrical tape or pipe insulation to insulate pipes located in vulnerable areas.
If it's safe to do so, use a space heater in areas with uninsulated pipes.
Shut off the outside water supply in the winter and bring garden hoses inside.
Thawing Frozen Pipes
If pipes are icy or full of frost, or if there's low water pressure, this can indicate that a pipe has frozen. Do the following to locate and thaw the frozen pipe:
Find the line that has the frozen pipe.
Find the frozen spot by tracing the pipe line.
Look for bulges, frost, or ice on the pipes.
Thaw the pipe with a hair dryer or heat lamp. Never use a blowtorch or any sort of flame.
If necessary, remove drywall to reach the frozen pipe.
Turn on the faucet at the end of the affected pipe line to a trickle.
Pipe bursts can cause a large amount of damage, so you need to take the necessary measures to prevent them from freezing up. In the event that a pipe does burst, immediately shut off the water supply and then contact RestorationMaster at (585) 643-6222 for our frozen pipe damage restoration services in Rochester, NY, and the neighboring areas.