Se Habla Español
Few home disasters can cause as much damage as a fire and they usually happen with very little warning. After ensuring that you and your family are safe, the top priority after a fire should be to limit the damage because the chemical emissions and corrosive byproducts can cause damage to continue spreading. ServiceMaster All Care Restoration provides fire and smoke damage restoration services to homes and businesses in Peoria and Glendale, AZ. Our trained technicians will quickly assess the damage and begin the restoration and repair process.
Fire Damage Repair and Restoration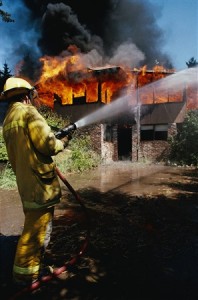 Each of our technicians at ServiceMaster All Care Restoration has the proper training and certification to restore and repair fire damage to your home and furnishings. Using the most advanced cleaning methods, products, and equipment of the industry, we are dedicated to restoring your home to its pre-fire condition and we will also provide assistance with your insurance claims. Make sure to call us immediately after the fire is put out for repair and restoration services to stop the damage from spreading. Our fire damage repair and restoration process includes the following:
Pre-cleaning and content cleaning
Fire restoration and repair
Soot damage cleanup
Odor removal
Construction services
Smoke Damage Repair and Restoration
In addition to fire damage repair, ServiceMaster All Care Restoration also provides smoke damage cleanup and restoration services. Our technicians are trained to use certain chemical combinations that can safely treat a variety of at-risk surfaces for soot damage including aluminum, porcelain, brass, marble, stainless steel, and fabrics such as furniture and upholstery. We can also remove lingering smoke odors with our deodorization services.
As soon as a fire is put out in your home or business in Peoria or Glendale, AZ, contact ServiceMaster All Care Restoration for fire and smoke damage restoration. We can limit the spread of the damage after the fire and restore your home or building to its original condition. Call us anytime 24 hours a day at 480-717-3030 for emergency services.
---
Recent Reviews
Review by

Beth Gaspadarek
Rating

"These guys were very quick about responding to my call. I was away for a couple of days and my bathroom sink sprung a leak. They were very nice and professional."