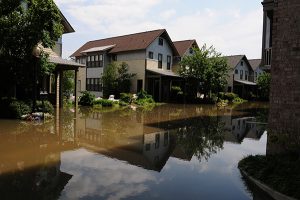 Most property damage that occurs in a home or building is the result of excess water or moisture. Just about every home is vulnerable to excess water from rain, floods, or humidity as well as burst pipes, leaking appliances, overflows, or sewage backups. Once water gets into your home, it penetrates absorbent building materials and spreads further and deeper which increases the risk of major structural damage and mold growth.
It is important to have the water damage contained right away to limit its spread and potential damage. RestorationMaster provides flood cleanup services to contain and remove excess water from homes and businesses in Laurel, MS. Our technicians use advanced water extraction and drying equipment to extract water absorbed by affected building materials and furnishings.
Professional Water Damage Cleanup
The ability of excess water to spread through porous building materials such as wood, insulation, flooring, and drywall make it potentially dangerous. Water will slowly get absorbed in these materials and cause them to become discolored and weakened which leads to serious structural damage. The other major danger with water damage is the increased risk of mold growth.
The presence of excess moisture creates conditions that attract mold colonies which will make the property damage worse while increasing the risk of related health effects including allergies and infection. The sooner you address water damage issues, the less likely you are to experience serious structural damage or mold growth.
Certified and Experienced
At RestorationMaster, our IICRC-certified technicians will remove standing water from your property and thoroughly dry and restore the affected areas. After removing the excess water with our extraction equipment, we strategically place advanced dryers and dehumidification equipment throughout the area that can extract moisture from the damaged materials. We will then ensure that the affected area is properly cleaned and restored back to its original condition.
You can expect the following steps with our water damage restoration services:
Emergency Response: We are standing by 24 hours a day to respond to water damage emergencies in Laurel, MS. Our technicians will address the source of the water and form a restoration plan based on our assessment of the damage.
Water Extraction and Drying: We will remove standing water with our water extraction equipment and set up dryers and dehumidifiers to treat wet building materials, furnishings, and other wet objects.
Reinstallation and Cleaning: We will clean and disinfect the entire area to prevent the growth of mold or mildew. Large objects such as furniture may be moved for more thorough cleaning and we will return these objects to their original place when finished.
Structural Repairs: If your home has sustained structural damage from the water, we can repair the damage with our construction services.
Water Extraction – What to Do
Call RestorationMaster right away for water damage cleanup services.
Blot dry as much of the water as you with a mop or towel.
Place a piece of foil between the furniture legs and wet floor.
Pack books tightly in their shelves to prevent the pages from getting warped.
Remove any items from the floor and place in a high, safe location.
Water Damage Cleanup – What NOT to Do
Do not enter any room with standing water when the electricity is on.
Do not place newspaper on the floor to walk on.
Do not remove any carpeting that is tacked down to the floor.
Do not disturb any visible mold.
You cannot ignore water damage in your home or building or the excess water will spread and greatly increase the risk of serious damage and mold growth. Make sure you call RestorationMaster for immediate water damage repair services in Laurel, MS. We will stop the water from spreading further in the building and remove it with our state-of-the-art equipment. We are available 24 hours a day at (601)651-4022 for emergency assistance.
Related Water Damage Cleanup Services