A fire is one of the worst disasters you can experience because it can cause you to lose an incredible amount of assets in a matter of minutes. Fires often start very quickly and unexpectedly, and when this occurs, you must make sure that you and your family evacuate immediately to stay safe.
After the fire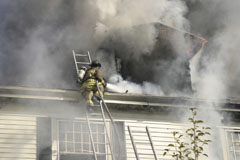 department puts out the fire, the restoration must become a priority because leftover byproducts including smoke and soot will spread the damage and permanently affect various surfaces and materials.
But RestorationMaster provides fire and smoke damage restoration services to clean up and repair homes and businesses in Laurel, MS. Our technicians use advanced cleaning products to clean up soot and we also provide reconstruction to repair structural damage.
Smoke and Soot Damage
When a fire occurs, much of the immediate damage is caused by the fire itself. However, it is important to remember that smoke, soot, and other corrosive byproducts will cause even more damage after the fire. Smoke and corrosive byproducts continue to spread through a home or building after the fire is extinguished and cause damage to the affected surfaces and materials. The etching and discoloration caused by the corrosive byproducts can even become permanent in as little as 72 hours after the fire.
But our technicians will immediately pre-clean materials affected by soot and corrosive byproducts to prevent permanent damage. Our advanced chemical cleaning products are safe and effective for cleaning soot damage from aluminum, porcelain, marble, stainless steel, carpeting, upholstery, and other household materials.
You must contact RestorationMaster as soon as the fire department clears your property to start the fire damage restoration process. We will stabilize the property and start the pre-cleaning right away to salvage as much as possible. After you call our professionals, make sure you follow these tips:
Fire Cleanup – What to Do After Fire Damage
Open all doors and windows in your home to help air it out if the temperature is above 60 degrees.
Clean soot from chrome, porcelain, aluminum, and Formica surfaces to prevent permanent damage.
If your furnace uses forced air, change the filter.
Throw away any food packages that have been exposed.
Put a damp cheesecloth over return and supply registers to filter loose soot.
If the power is out, empty and clean your refrigerator thoroughly.
Set your smoke damaged clothing and fabrics aside to submit to a restoration dry cleaner.
Smoke Mitigation – What Not to Do After a Fire
Do not touch wood, drywall, or upholstery with soot damage because the oils from your hand can make the damage worse.
Do not try to wash walls with soot damage because improper cleaning methods will make it worse.
Do not try to clean your carpeting or furniture.
Do not use electrical appliances unless they have been inspected for safety.
Do not use ceiling fixtures on a wet ceiling.
It may be a relief to see the fire put out, but the damage can get much worse if you don't start the restoration process right away. RestorationMaster is ready to provide fire damage restoration services to help homes and businesses in Laurel, MS recover after a fire.
We are available 24 hours a day at (601)651-4022 to respond to fire damage emergencies.
Related Fire Damage Restoration Services