It is quite rare for an individual to experience a major accident or violent crime on their property that has resulted in a serious injury or death, but these types of situations do occur each day in the U.S. The scene of an injury or death is overwhelming and sometimes disturbing to encounter, but you must call the authorities and keep yourself safe from biohazard materials. These scenes often contain biohazard materials like blood and bodily fluids that can easily spread infection or disease if they are mishandled.
But our professionals at RestorationMaster will safely remove biohazard materials from the scene of an accident or crime in Laurel, MS with our biohazard and trauma scene cleaning services. Our technicians are trained and equipped to safely restore scenes containing biohazard materials while taking a sensitive approach to situations involving a loss.
Trauma and Crime Scene Cleaning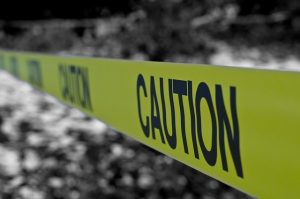 If a violent crime or accident has occurred on your property, there is a good chance that there are biohazard materials present. Blood, bodily fluids, and other biohazard materials may contain infectious agents including viruses and bacteria that can seriously threaten the health of anyone who encounters these materials.
It is extremely important to avoid any contact with biohazard materials and let our professionals handle the cleanup. You must call law enforcement and other emergency responders first when you encounter the scene, but only a licensed professional such as RestorationMaster can remove the biohazard materials and restore the scene.
We use the most powerful cleaning products and disinfectants of the industry to ensure that the scene is safely cleaned and restored. Our technicians will completely remove all biohazard materials and thoroughly disinfect the scene to prevent serious health effects. In cases involving a violent crime, we work in cooperation with law enforcement to avoid compromising the investigation.
The biohazard cleaning services we provide consist of the following steps:
Decontamination: After removing the biohazard materials, we thoroughly clean and decontaminate the scene so that it is safe to enter.
Proper Disposal: We transport all biohazard materials in the proper containers to a medical waste facility that is licensed to dispose of them.
Odor Removal: We can remove lingering odors with our odor removal process.
Continuous Monitoring: We protect your privacy by arriving in unmarked vehicles and work diligently and discreetly to restore the scene back to its natural state.
Family Assistance and Support: If the situation has resulted in the loss of a loved one, our technicians show those who are grieving respect and compassion. We can also recommend counseling professionals for those who need extra support.
Certified Technicians: Our technicians have the certification, training, and equipment to safely remove all biohazard materials while following the regulations of the local and state government.
Contact Us for Biohazard Cleanup
If such a tragedy occurs on your property, try to keep your composure and make the right phone calls right away. Contact law enforcement and EMTs first, and then RestorationMaster to remove the biohazard materials and ensure that the scene is safely restored.
We are available 24 hours a day at (601) 651-4022 to respond to your emergencies in Laurel, MS.