RestorationMaster in Irondequoit, NY are experts in water damage cleanup. Their team of professionals are on call 24/7 with any restoration needs you may have.  Since water damage can happen within 48 hours, acting quickly is vitally important to keeping your home safe and secure.
Water Damage Restoration
Water can leak from many different parts of your home; leaky pipes, floods, water heaters and broken sub pumps.  Because water problems can happen so often in your home, it is vitally important you know whom to call during any water emergency.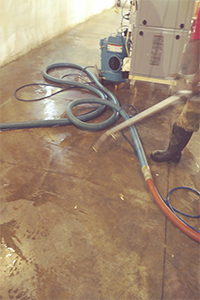 Since mold and mildew can start growing within a couple days of water damage, it is important to begin the cleanup quickly.  Structural damage can be a problem as well when water is not cleaned up in a timely manner.  Many porous items in your home can retain that water and start to grow bacteria and mold spores.  Items such as wood, drywall and furniture are perfect homes for bacteria to thrive in.  RestorationMaster in Irondequoit knows that acting quickly is important to keeping you and your home safe.
RestorationMaster uses a technique called Dri-Eaz.  This helps them attempt to dry everything in place before removing structural items.  Their procedures are issued by IICRC.
RestorationMaster in Irondequoit, NY can work with your insurance company to make sure the cleanup and restoration process goes as smoothly as possible.  They follow insurance industry standards using the Xactimiate pricing method as well.  Allow RestorationMaster to help you with all your water restoration needs.
Choose water damage restoration and cleanup services from RestorationMaster, Irondequoit, New York by calling us at 585-643-6222.