Since mold spores travel so easily through the air, they can attach and start to grow on almost any surface. Mold and mildew are very dangerous if they start to grow in your home.  Depending on your home's altitude and climate, some homes may be more prone to humidity and mold growth.
Turn to RestorationMaster in Irondequoit, New York to make sure your entire mold and mildew remediation needs are met.  Fast response to a problem like mold will ensure you, your family and home will stay safe and clean in the long run.
Mildew Mold Cleanup
RestorationMaster  in Irondequoit, NY, knows that fast reaction time to any damage will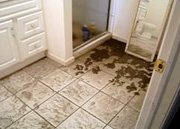 save you time and money in the long run.  This is especially important when it comes to mold.  Since mold and mildew can start to grow within 48 hours of water contact, RestorationMaster  in Irondequoit can be onsite within 1-4 hours of your initial call.  They are available to talk 24/7 so you can be prepared to act fast, no matter if it's night or weekends, emergencies can happen at any time.
Before RestorationMaster  arrives at your home, make sure to open any windows and turn on fans.  This will help the drying process and prevent the growth of mold.  Since mold and mildew can cause many health problems, for both the healthy and the ill, it is important you prevent mold before it happens.
Choose mold remediation and mildew cleanup services from RestorationMaster , Irondequoit, New York by calling us at 585-643-6222.