RestorationMaster
It's hard to deep clean a home or office because of all the heavy furniture and appliances in the way. Ideally, the best way to clean a room is when it's totally empty, which is why the only time it can be completely cleaned is when you move out of a home or office, and before you move into a new one. It's a good idea to have a home professionally cleaned after you move out if you rent, to ensure you receive the security deposit. Having the new space cleaned before you move in means you won't be putting your clean items on dirty floors and walls. RestorationMaster provides comprehensive move in/move out cleaning services for clients in Yorkville, IL. These services ensure that you won't have to worry about another thorough cleaning for a while in the new space, while making sure the old space is ready for new tenants.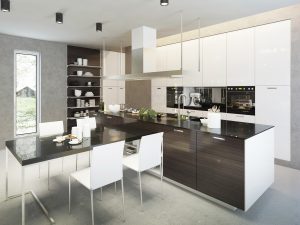 The cleaning technicians at RestorationMaster thoroughly clean and sanitize light fixtures, plumbing fixtures, walls, floors, windows, appliances, and more once the home or office has been emptied of furniture and other content. We work with you to develop a cleaning plan based on your specifications and our evaluation of the area. Next, we clean the home or office from top to bottom using specially formulated products and equipment that safely and effectively clean and sanitize without leaving behind residue that can attract dust and make surfaces look dirty and dingy faster. We'll make sure that any foul smells are removed before heavy furniture gets moved into place.
Our move in/move out cleaning services include:
Living Rooms/ Bedrooms
We clean all hard-surface floors and vacuum all carpets to pick up debris left behind by people carrying items in and out.
We dust and vacuum all rooms, including inside closets.
We clean and dust ceiling fans and light fixtures.
We wash walls and baseboards.
Kitchen
We clean all cabinets, drawers, and pantries.
We clean and sanitize all countertops.
We clean and sanitize the oven and cooktop.
We clean the inside and outside of the refrigerator.
We clean and mop the floor to remove the residue left behind by movers.
Bathroom
All tile and grout surfaces are scrubbed.
We clean and sanitize toilets, sinks, tubs, and showers.
We clean out vanities and medicine cabinets and remove leftover boxes and bottles.
Mirrors are cleaned and polished.
We deodorize the bathroom to remove any remaining odors.
The move in/move out cleaning services from RestorationMaster let you focus on packing and moving, while we ensure your items move into a clean home and leave behind a place that's free from dirt, stains, and odors. Renters can be confident they'll receive their security deposits, which are often much higher than the fees for cleaning services. If you're moving into or out of a new home or office in Yorkville, IL, call us at (630) 796-6252 to arrange professional move in/move out cleaning services.