There are many people in the U.S. that are seriously injured or killed by violent crimes and accidents each day. Although it is unlikely that either of these scenarios will occur on your property, there is still a possibility that they can which is wh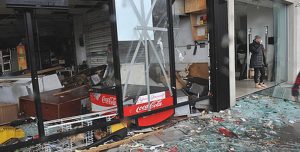 y you should be aware of how to react in these instances. Situations involving a serious injury or death can be hectic and disturbing, and there are often biohazard materials involved that pose a serious danger to your health.
You must call the right authorities as soon as you discover the scene, as well as a professional that can clean up biohazard materials. RestorationMaster provides biohazard and trauma scene cleaning services to safely restore scenes in Hattiesburg, MS. Our technicians have the right equipment and cleaning products to remove biohazard materials and we also treat those who have lost a loved one with respect and compassion.
Trauma and Crime Scene Cleaning
If you encounter the scene of an accident or violent crime, you must remember to keep your distance because the scene is potentially dangerous. Biohazard materials including blood, tissues, and bodily fluids often consist of dangerous toxins that can spread infection or disease to anyone that handles them.
That is why you must call a professional company such as RestorationMaster to clean up biohazard materials with the proper equipment and techniques. Law enforcement and EMTs are not qualified to clean up the scene of a crime or accident and if it happens on your property, you are responsible for the restoration.
At RestorationMaster, we can safely clean and disinfect any scene that contains biohazard materials with our advanced cleaning products and disinfectants. We will remove the materials from the scene and ensure that the area is thoroughly disinfected so that it can be used again without fear of negative health effects. Our technicians are also trained to work with law enforcement officials that are conducting a crime scene investigation.
Our biohazard cleaning services include the following:
Decontamination: We make sure to completely clean and decontaminate the scene after the biohazard materials are removed so that you can enter the area safely.
Proper Disposal: Biohazard materials are taken to a licensed medical waste facility where they will be safely disposed.
Deodorization: Our powerful deodorizers can effectively eliminate any lingering odors.
Continuous Monitoring: Our technicians will work meticulously to restore the scene to its original condition and we respect your privacy as we work.
Family Assistance and Support: We show respect and compassion to those who have lost a close friend or family member and we can also help those who are grieving get in touch with counseling professionals who can help.
Certified Technicians: Each of our technicians is certified to safely handle the removal of biohazard materials, and we use the best cleaning equipment and personal protective equipment (PPE) available. Our biohazard cleaning services follow local and state government regulations.
Any scenario involving biohazard materials including accidents and violent crimes require restoration from a licensed professional. If an injury or death has occurred, you must call 911 first, and then RestorationMaster to help restore the scene. You can reach us 24 hours a day at (601)651-4022 to provide biohazard cleaning services in Hattiesburg, MS.
---
Recent Reviews
Review us on:
https://www.yelp.com
Review by

Trent M.
Rating

Excellent and quick job on cleaning up a 3-day water heater leak!
---