Millions of people across the country are affected by hoarding, which has been classified as a mental disorder. Hoarding can be difficult to handle for those affected by the disorder. It usually involves a high level of anxiety that makes a person unable to part with personal belongings. That said, hoarding can result in a person gathering an abundant collection of various items from books to knick-knacks to trash. Because of the large scale, the amount of items collected often poses fire hazards within the property and may even lead to injuries. Individuals affected by hoarding could also have health issues due to mold, bacteria, or other biohazard materials concealed in the clutter of objects. Hoarding is a sensitive subject, so it necessitates a respectful approach for assistance.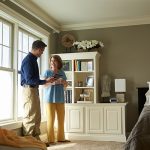 At ServiceMaster All Care Restoration, we provide hoarding cleaning services to Glendale, AZ so we can assist families that have been affected by hoarding. We employ well-trained technicians that will safely work with all levels of hoarding cleanup. Additionally, we have multiple services that will restore the home to a healthy living condition. Our technicians will thoroughly clean any surface and provide disposal services for all items. To lessen the risk of any health concerns, we will be cautious in our work if we encounter biohazard materials. Our technicians will also act with professionalism and respect when providing these services.
It can be hazardous to deal with hoarding situations, but that is exactly why we ensure the protection of you and our staff. Our technicians have advanced cleaning and personal protective equipment and we guarantee we will adhere to all rules and regulations from OSHA, the EPA, and the Department of Transportation. The following are included in our services:
Decontamination: Our technicians do an exceptional job of sanitizing the home and removing all contaminates.
Odor Removal: We do a thorough job deodorizing your home, freshening the air and eliminating smells from the source.
Proper Disposal: Acting in a respectful manner, we will dispose of all unwanted materials correctly.
People affected by hoarding don't always receive the support they need. It can be difficult to come to terms with, but these individuals must be surrounded by caring, understanding loved ones that will get them the help they need. We know this is a sensitive matter. As such, we are thorough with our service and make sure to bond with the affected individual prior to starting cleanup. If you or a loved one struggles with hoarding in the Glendale, AZ area and needs help, please get in touch with ServiceMaster All Care Restoration. We can be reached 24/7 at (480) 717-3030 for our hoarding cleaning services.
---
See All Reviews