Natural disasters, such as fires and even floods, can put commercial properties in Glendale, AZ, at risk of significant property damage. Harm can be done to the building, its structure, and any inventory and equipment inside.
If your commercial property has suffered large-scale damage by a disaster, then ServiceMaster All Care Restoration can help with the commercial large loss services we provide. We will help your business get back up and running no matter the scale of the damage done to your property. Our technicians will do restoration work on both your building and the contents.
Flood and Fire Damage
Significant water damage and fire, smoke, and soot damage are the types of situations we primarily address. With those kinds of damage, your building's structure may become unstable, and your content may become permanently damaged. We will get you back to business as soon as possible by responding immediately to begin the restoration, limiting the damage suffered.
Commercial Flood Damage Restoration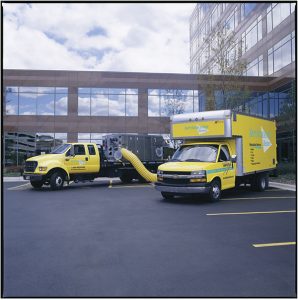 Floodwater severely damages properties because of the porous quality of wood, drywall, and many other common building materials. These building materials will quickly absorb floodwater, contributing to structural issues and even mold growth.
If the water is from an internal source instead of a natural disaster, our technicians are trained well enough to locate and repair the source.
We will remove excess moisture by using our advanced water extraction and drying equipment. From there, our technicians continue with the restoration effort.
Commercial Fire Damage Restoration
Fires are known to result in extensive damage. However, because of their corrosive qualities and airborne nature, the worst damage actually occurs from the smoke and soot produced by the fire.
If not addressed in a timely manner, the damage that smoke and soot cause — etching, corrosion, and discoloration — can become permanent. Knowing this, our technicians begin with our emergency pre-cleaning services.
To do this, we use advanced chemical cleaners and equipment to remove the effects of soot and smoke. Once that's complete, we move on to the building and content restoration.
Complete Commercial Restoration
It doesn't matter what type of damage has been done to your property; we will respond to emergencies at any time of the day, every day of the week. Our technicians conduct an initial inspection to find the cause and assess how much damage was done. If needed, emergency pre-cleaning services are provided to prevent any permanent damage.
Our technicians will extract water, remove soot, and eliminate other harmful elements from damaged materials. Then, we restore building materials, electronics, operating equipment, personal belongings, essential documents, and other affected materials.
When we conduct work on commercial properties, we strive to restore the space to its original condition, doing so in an efficient, effective manner.
We are ready to help commercial properties in Glendale, AZ, with our disaster restoration and recovery services.
Contact us at (480) 717-3030 for the commercial large loss services we provide.
---
See All Reviews