RestorationMaster
[call](888) 915-8868[/call]
Water Damage Related Info
Thank you for choosing RestorationMaster to restore your home through water damage restoration services. We understand the stress and trauma you must be feeling at this time, which is why our technicians work with the utmost respect while providing quality services. This may be your first disaster; however, our specialists hold years of experience in restoring homes and businesses from water damage. We have advanced equipment, products, and tools to help us get the job done quickly and effectively. Finally, we have been regarded as the number one restoration company in Connellsville by many property owners. The information provided below is a checklist of everything that will require inspection to ensure that your home will be left in good standing after our work is done. Each task also features a short description explaining why that item must be checked.
Identifying the Source and Extent of the Damage
A complete inspection using specialized equipment, including probes, sensors, and moisture-detection equipment are used to determine the extent of the damage. We can then create an effective plan for restoring your property to its original condition. While your home may not require all of the services featured on this list, the following areas will need to be checked to ensure the safety of you and your loved ones. It may include the inspection of pipes or hoses that may or may not have caused the damage.
✓Examine the attic. Moist walls, framing, insulation, and storage items may require restoration as they have been damaged by the water.
✓Examine the basement. As this is the most common place for water damage to occur, the basement will require thorough inspection to ensure the appropriate drying plan for possible water leaks.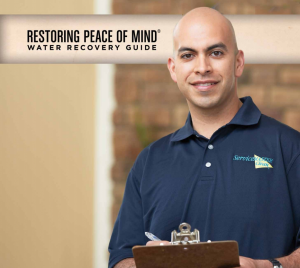 ✓Examine the air ducts. The ductwork will require inspection for any water leaks in any holes, including floor and ceiling vents.
✓Examine all crawlspaces. Water has the ability to hide anywhere, including the smallest, darkest cracks in the home. The crawlspace is a perfect home to hold bacteria and mold; therefore, it requires thorough inspection.
✓Prevent contents from becoming damaged by water. In addition to this, we will provide a safe, dry area to enhance the drying process. Protecting your belongings from water damage can include the use of our pack-out services, putting them on blocks, or just storing them in another room.
✓Extract the water. Removing any standing water is the first step towards minimizing the damage while enhancing the drying process. Our high-quality equipment will dry all layers of the floor, one at a time.
Inspect the Carpeting
✓Allow the carpet and padding to dry. In some cases, these materials can be dried in place.
✓Removing the tack strip on all carpeting and open seams if needed. This service is provided to prevent additional damage from incurring to your carpets.
✓Remove the pad. In some cases, the carpet padding will need to be removed in order to avoid additional damage and limit microbial growth. This will ultimately lead to a cleaner environment for the dehumidification process.
Take out unsalvageable carpet. In some cases, the carpeting has been damaged beyond repair, thus, requiring replacement.
You can read more about the drying process in regards to using high-velocity air movers and dehumidifiers in order to effectively dry your carpeting.
Inspect Other Floors
Vinyl:
✓Allow to dry in place
✓Replace (In some cases, the vinyl is too severely damaged to repair and replacement will be a more cost-efficient solution)
Hardwood:
✓Allow to dry in place
✓Replace (In this case, the hardwood flooring is not in a stable condition to be repair, thus, requiring a replacement.)
Subfloor:
✓Allow to dry in place
✓Replace (the subfloor is not able to be restored. It is required to be replaced.)
Tile:
✓Allow to dry in place
✓Replace (the tile is not able to be restored. It is cheaper to replace in this situation.)
Laminate:
✓Allow to dry in place
✓Replace (Even nonporous flooring, including Pergo, can hold water. In this case, it will be necessary to remove it in order to dry the floor layer underneath.)
Inspect the Cabinets, Walls, and Ceilings
✓Drill holes in the walls/building materials to allow for air circulation/ventilation. Drilling holes in the structural materials may be necessary in order to air out the floor materials, further enhancing the drying process.
✓Remove baseboards. In some cases, the baseboard must be removed in order to dry it out and the wall behind it.
✓Remove sheetrock/drywall. These materials may not be salvageable due to the amount of water and duration of exposure to damage. In this case, it will be more cost-effective to replace than to restore.
Other Inspections/Property Damage Services
Examine insulation:
✓Allow to dry in place
✓Replace (In some cases, the insulation is too damaged to restore, or it is more efficient to be replaced than be restored.
✓Examine cabinets. Because cabinets contain porous materials and allow moisture to seep in, examination is required, thus, the technician will need to drill holes or remove the toe kicks.
✓Take off doors. In order to prevent additional damages to the floors and for better air ventilation, it may be necessary to take the door off its hinges.
✓Apply Antimicrobials. Applying effective microbial products will ensure that the microbials will not activate during the drying process.
✓Apply Odor Control. As odors normally occur in the drying process, these products will minimize any unfriendly smells during the drying process.
✓Set up/install air movers. These devices will enhance the drying process, moving air at high velocities across all wet surfaces. Essentially, it will allow any moisture trapped within the affected materials to quickly evaporate into the air.
✓Set up/install dehumidifiers. This is to enhance the evaporation process. Ultimately, these devices will reduce further damage throughout the home or building.
✓Explain expectations/future visits. Schedule next appointment or steps to follow up, including repositioning equipment, monitoring equipment, and moisture readings. While each case is different and the duration of services will vary, the additional visits will speed up the drying process, getting you and your family back on track.
✓Other. (Depending on the situation, additional inspections may be required.)
If you have any additional questions about these items, you can refer to our water restoration – FAQ page to answer any questions you may have. We are also available at (724)320-1397 to answer detailed questions.
You can also refer to our water and fire damage prevention tips page to learn about how you can avoid water damage and even a house fire in the future.