AfterCare Restoration

As the Covid pandemic continues, it is important to create a healthy environment indoors to help slow the spread of the disease.  COVID-19, as well as illnesses like the cold and flu, can spread very easily in indoor environments through close person to person contact as well as contact with surfaces and objects that have been contaminated.  You can protect your home or business from the spread of these illnesses effectively with professional disinfection services.
AfterCare Restoration provides disinfection and cleaning services in Ancient Oaks, PA to protect homes and businesses from the spread of COVID-19.  Our technicians use advanced methods along with hospital grade disinfectants to thoroughly treat your property including heavily used areas and surfaces.  You can count on our disinfection services to remove dangerous pathogens including COVID-19.
What is COVID-19?
COVID-19 is a serious respiratory illness that spreads on respiratory droplets and people can also get infected by touching a contaminated surface.  Symptoms can appear 2-14 days after exposure and include trouble breathing, fever, chills, dry cough, headaches, and loss of taste and smell.  The severity of the symptoms may vary from case to case, but senior citizens and those with compromised immune systems or pre-existing conditions are most likely to experience severe symptoms.
You can learn more about COVID-19 and its variants by consulting the COVID-19 FAQ from the CDC.
Disinfection Services for COVID-19 Ancient Oaks, PA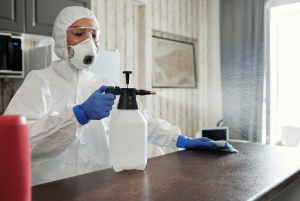 Professional disinfection services have been shown to be effective in protecting homes and business form the spread of COVID-19 and other diseases.  Our disinfection services can help prevent a COVID-19 breakout on your property and we are also prepared to treat properties after exposure.
We will first clean your entire property to remove dirt buildup and grime and eliminate disease-causing pathogens.  After the cleaning, we will disinfect your property to ensure that remaining pathogens are neutralized.  Our technicians will make sure to treat your property thoroughly, including commonly used areas and high-touch surfaces and objects.  The disinfectants we use are registered by the EPA and have been proven effective against COVID-19 and other pathogens.
We will work with you to form and implement a disinfection and cleaning plan that suits the needs of your property.  You can expect the following from our disinfection services:
Effective disinfection methods: We use advanced equipment and CDC recommended methods to thoroughly treat your property and we give special attention to high touch surfaces like door handles, desks, light switches, bathroom fixtures, countertops, computer equipment, and more.
EPA-registered products: We use hospital grade, EPA-registered disinfectants that can eliminate pathogens that cause COVID-19.
Trained professionals: Our technicians take the proper safety precautions and follow CDC guidelines to decontaminate your property.
Contact Us for Disinfection and Cleanup Services in Ancient Oaks, PA
As the pandemic continues and new variants of COVID-19 appear, it is important to keep your home or business clean and safe.  Our professionals at AfterCare Restoration can provide effective disinfection services using EPA-registered products and following the guidelines of the CDC. You can call us at (215) 774-3120 for disinfection and cleaning in Ancient Oaks, PA.
---
Recent Reviews
Review by

T.W.
Rating

"Aftercare has been truly amazing. Very professional and personal all at the same time. Brought them in for an estimate and they were able to start our drying process right away. They walked me through what I would need to address with my insurance. we are currently in the process of picking flooring which they will be installing for us both in the areas at that did have the leak as well as a larger area in the home we are very grateful and happy to work with them. I would recommend aftercare to anybody that asks"
---
Review by

S.B.
Rating

"Our basement flooded this past August with the storms. Calling Aftercare was the best decision I made. They were quick to respond, worked within my budget, and did an AMAZING job! There were some things we wanted to upgrade and they were able to help us with that as well. They changed out the flooring in our bathroom and even came back to install a new basement floor. I highly recommend them to anyone looking for reliable quality work!"
---
Review by

P.B.
Rating

"Jeff and his team were incredibly professional and their work was perfect. They worked with our insurance company so that we didn't have to deal with the headache. We will absolutely use them again in the future and recommend them to anyone who needs work done in their house."