RestorationMaster
If you have discovered mold on your property, it can be very frustrating. However, it is important that you do not use any home remedies to remove the mold yourself. This is because applying the improper chemicals and techniques will only cause it to become irritated and spread further. It can also contribute to negative health effects, such as triggering allergies or breathing problems.
However, RestorationMaster provides professional mold removal services in the Tigard, OR area to remove all mold cases from residential and commercial properties. With advanced products, our technicians will eliminate the mold at its source as well as identify areas that at risk for future cases.
Negative Effects of Mold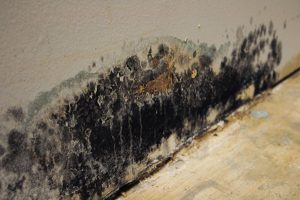 Unfortunately, there are a number of problems associated with mold. In addition to causing extreme damage to your building structure, it can trigger allergies as well as breathing problems for everyone residing on the property. These problems occur when the source releases its spores into the air, even traveling within the HVAC system to affect new areas around the property.
Mold can also appear where there is excess moisture, such as in the bathrooms, basement, crawlspaces and kitchen. In fact, it most often appears after water damage has been untreated for a period of time, allowing bacteria to accumulate and develop mold spores.
When mold grows, it attacks all building materials that provide an organic food source, called cellulose. Once it develops, it starts to eat away at the host, causing severe structural damage and moving to new areas over time. This is why it is important to call RestorationMaster to identify all areas containing mold damage and restore them properly.
Mold Restoration
As soon as you call RestorationMaster for mold remediation, our technicians arrive right away to assess the damage and identify all areas containing mold growth. We will then prevent it from spreading and start cleaning the affected areas.
All of the following procedures are included in our mold restoration services:
Complete inspection of property to identify all areas containing mold growth.
Securing affected area to prevent mold from spreading.
Thorough mold removal with powerful products and equipment.
Restoration of damaged building materials.
Although there are some projects that can wait until the weekend to begin, mold remediation is not one of them. As soon as you discover it in your home, it should be eliminated as soon as possible to prevent it from spreading further. Our technicians will arrive right away to eliminate all cases effectively and efficiently from the affected areas.
For professional mold removal services in the Tigard, OR area, call RestorationMaster at (503)376-6666 to clean commercial and residential properties.