ServiceMaster Restoration by Complete
It is hard to imagine going an entire day without using some of the furniture in your home or office.  The furniture in a given space not only provides a place to sit down, but also contributes to the look and design of the space.  When the upholstery fabric starts to look dirty, faded, or worn out, it can bring down the appearance of the entire room.  ServiceMaster Restoration by Complete provides professional upholstery cleaning services in Brooklyn, NY to clean furniture upholstery in commercial and residential settings.  Our upholstery cleaning services will not only improve the look of your furniture, but also protect it from excessive fading and deterioration.
Residential Upholstery Cleaning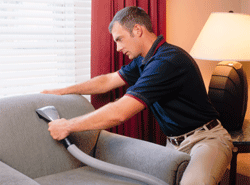 There are certain pieces of furniture in a home such as the sofa that is used every day and this constant use causes debris buildup and general wear and tear.  The debris buildup in the fabric can accelerate the deterioration of the upholstery because direct contact causes hard soil to become abrasive.  Our technicians can effectively remove embedded debris from the upholstery fabric with the hot water extraction method to help reduce wear and tear and improve its appearance.
The complete residential cleaning services we provide include these steps:
Vacuuming and pre-treatment for stains
Complete cleaning with hot water extraction
Frame washing and polishing
Commercial Upholstery Cleaning
The furniture in an office or workspace is very important for providing places for employees to sit and work and just like in your home, dirty furniture can affect the look of your office.  Some commercial furniture gets more use than furniture in a home, causing it to become dirty and worn out much faster.  Without regular cleaning services, you may have to replace the furniture in your office more often which can cost your company a lot of money.  ServiceMaster Restoration by Complete can clean furniture upholstery in commercial settings effectively with the same cleaning method we use for residential furniture.  Our upholstery cleaning services will restore the appearance of the fabric and guarantee a longer life for your furniture.
Keeping your furniture in good shape will not only make your home or office a more comfortable and healthy environment, but also improve the look of the space to make a better impression on employees, customers, and visitors.  Our technicians at ServiceMaster Restoration by Complete have the experience and the equipment to safely and effectively clean all types of upholstery fabric in Brooklyn, NY.  You can call us at (347) 380-8388 to learn more or schedule an appointment.