Certain natural disasters can happen at almost any time and if your home or building is not prepared, there is a good chance you could be dealing with significant damage.  Floods and severe storms are always a threat to occur in the New York City area and if either causes damage to your home, you must react immediately to have your home cleaned up and rebuilt.  ServiceMaster Restoration by Complete provides storm and flood damage restoration services to help restore the damage caused by floods and storms to homes and businesses in Brooklyn, NY.  Our technicians can remove standing flood water with our water extraction equipment and we can also reconstruct significant structural damage caused by severe storms.
Flood Damage Restoration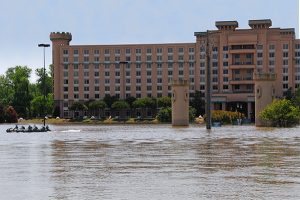 Flooding in a home or building is dangerous because it can cause serious structural damage and mold growth and there are many potential natural and unnatural causes.  Hard rain and natural floods are the most common sources of indoor flooding but it can also be caused by plumbing leaks, sewage backups, and burst pipes.  Standing water can lead to serious structural damage because it quickly penetrates wood, drywall, flooring, and other building materials and weakens them enough to compromise their structural integrity.  There is also a good chance that flood water can be contaminated with microorganisms or even sewage which poses serious health risks.  Mold growth is another possible result of extensive water damage that you must watch out for if you experience indoor flooding.
ServiceMaster Restoration by Complete is fully prepared to handle even the most extreme cases of indoor flooding with our state-of-the-art water extraction and drying equipment.  After we extract the standing water, we will place powerful dehumidifiers throughout the area that will effectively dry wet furnishings and building materials.  Cleaning and disinfection of the affected area is the last step to help prevent any health issues from mold or microorganisms from contaminated water.
The flood damage restoration services we provide include:
Complete removal of standing water and moisture
Drying and dehumidification to extract moisture from furnishings and affected building materials
Complete cleaning and sanitization of the area
Carpet and upholstery cleaning if needed
Storm Damage Restoration
Brooklyn, NY is prone to all types of severe weather that is known to cause property damage including blizzards, thunderstorms, high winds, hail, and hurricanes.  The precipitation from severe weather can lead to water damage in your home or building, especially if strong winds damage the roof or siding to let in rain or snow.  The worst storm damage is caused by strong winds as wind has the power to damage the windows, siding, and roof or knock down larger objects onto a home or building which is extremely dangerous.  If your property is affected by a major storm, we can help with the following steps:
Stabilization of the home or building with board-ups and tarping
Repair of exterior damage to roof, siding, doors, and windows
Clearing of natural debris such as tree branches and bushes from your property
Clearing or non-natural debris such as shingles, siding, and glass
The damage caused by a flood or major storm will get much worse without immediate attention and may even lead to permanent damage of your home or building.  Do not hesitate to call ServiceMaster Restoration by Complete immediately after a storm or flood to stabilize your home and repair the damage to its pre-disaster condition.  You can reach us 24 hours a day at (347) 380-8388 for emergency storm and flood damage restoration in Brooklyn, NY.