ServiceMaster Restoration by Complete
The damage caused in a home by a natural disaster can affect any surface, structure, or object and it is important for this damage to be cleaned and restored as quickly as possible.  Mold, excess water, fire, and smoke can damage a wide range of personal content and many of these items are delicate enough to sustain permanent damage without quick enough restoration. 
ServiceMaster Restoration by Complete
provides content cleaning and pack-out services in Brooklyn, NY to clean and restore your personal objects that have sustained damage from a disaster.  Our technicians can complete the cleaning on your property but if your home has also been badly damaged, we can take your content to our facility for cleaning with our pack-out services.
Content Cleaning and Restoration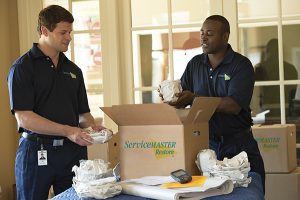 When a natural disaster strikes, the damage can be very hard to contain and it often spreads to affect your personal belongings which can make the entire restoration process more complicated.  In the aftermath of a disaster, you should inspect your personal content to assess the damage and set aside damaged items for restoration and cleaning.  The technicians of ServiceMaster Restoration by Complete can effectively clean, restore, and deodorize all personal content and we can work with your insurance provider to help you file claims for the damage.  We can handle the cleaning and restoration effectively within your home and we also offer the option for our pack-out services if the condition of your home does not allow the content cleaning to be done on-site.
Pack-Out Services
In the event that your home is also heavily damaged, we can pack-out your items and take them to our facility for cleaning and restoration while your home is restored.  Our technicians add each item that is packed up to a detailed inventory list that is shared with you and your insurance company.  Once your items reach our facility, we will thoroughly clean and restore them and keep them stored safely in our climate controlled facility as the restoration is completed on your home.  When you are ready to take your content back, our technicians will deliver it directly to your home.
Dealing with the damage from a natural disaster is already a difficult ordeal and if your personal content has also been affected, this can add another layer of frustration.  If your home and content need to be restored as a result of a disaster, contact ServiceMaster Restoration by Complete for content cleaning and pack-out services in Brooklyn, NY.  You can reach us 24 hours a day at (347) 380-8388 for disaster restoration services that include content cleaning and pack-outs.