ServiceMaster of Aurora – RestorationMaster Case Study
RestorationMaster uses effective SEO strategies to help generate leads for our clients that will grow their business and bring them a great return on investment (ROI).  We use proven methods to help generate quality leads but sometimes it can be difficult to get a lot of good leads right away as various factors such as location and competition may affect the campaign.  However, we do succeed quite often in generating quality leads that lead to conversions and greatly increase the ROI for our clients.
When it comes to disaster restoration, people need help immediately.  They cannot wait to address the damage caused to their property by flooding, fires, smoke, or mold.  Disaster restoration contractors invest in SEO to increase their online presence so potential customers can find them the moment they need assistance.  Our digital marketing experts use analytics tools to track calls, forms, and website traffic.  This allows us to determine how effective our strategies have been at generating quality leads for our clients.
About ServiceMaster of Aurora
ServiceMaster of Aurora is a disaster restoration service provider based in Aurora, IL that serves the homes and business of the western and southwestern Chicago suburbs.  They provide complete disaster restoration using the best equipment and methods of the industry and they are available 24/7 to answer calls and respond to emergencies.  Their trained and certified technicians will work diligently to limit the damage and restore homes and buildings to their pre-disaster condition.
While ServiceMaster of Aurora was providing their customers with excellent disaster restoration services, they were not getting many leads online.  Their limited online visibility when considering that their customers needed immediate help was causing them to lose out on potential business to their competitors.
They clearly needed to increase their online visibility to start getting these leads which is when they reached out to RestorationMaster, a lead generation specialist that works with businesses in the disaster restoration industry.
Increasing Leads and ROI
At the beginning of their campaign, ServiceMaster of Aurora was getting good leads and they were optimistic that their number of leads would increase.  It can be difficult to predict how many quality leads a client will get early in their campaign, even when we use proven SEO strategies.  Factors such as the local population, competition, and Google My Business listings can also have an effect on lead generation campaigns.
Despite being in a highly populated and competitive area, ServiceMaster of Aurora stuck with our program and ended up getting good leads in their first year for a whopping 1,786% ROI.  In their second year, their leads increased for a 1,818% ROI.  Currently, in 2021, ServiceMaster of Aurora is getting a 1,468% ROI for their campaign just four months into the year.
The team at ServiceMaster of Aurora believed in our lead generation program from the beginning and they experienced an increase in the number of leads and ROI in the first two years.  Their satisfaction with our program led them to expand within their service area and invest in a new website.  We look forward to continuing our relationship with ServiceMaster of Aurora and generating more quality leads that will help them grow their business.
Key Takeaway
For a lead generation campaign to be successful, it requires persistence, dedication, and client participation.  SEO does not provide results overnight as it can take months for our lead generation tactics to take effect.  Clients who understand that it takes time and persistence to start seeing quality leads are more likely to experience success with our lead generation program.
Restoration contractors who work with us can expect our digital marketing experts to work diligently as we are passionate about getting quality leads for our clients.  Participation and feedback from the client can put their campaign over the top.
Lead Generation from RestorationMaster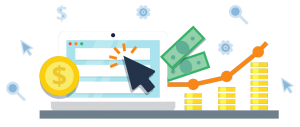 Our digital marketing professionals at RestorationMaster can provide exclusive leads for businesses in the disaster restoration industry.  Our agency is a Google partner, and we implement proven SEO tactics to help generate quality leads.  You can join the 50+ businesses that have increased their leads and conversions with RestorationMaster.
For a free consultation on how our lead generation program can help your business, fill out a contact form or give us a call at (888) 915-8868 to get started.