Many people spend almost as much time in their offices as they do in their homes which makes it important for these spaces to be clean and comfortable. A clean working environment will not only protect the health and boost the productivity of your employees, but also contribute to an impressive appearance that will help visitors and clients get a good impression of your business. While there are many benefits to keeping an office space clean, many companies may not have an in-house staff that can clean the office consistently. RestorationMaster provides commercial office cleaning services in Glen Ellyn, IL to deep clean office buildings. We will clean the floors, furniture, and other aspects of your office to create a clean, comfortable, an impressive looking space.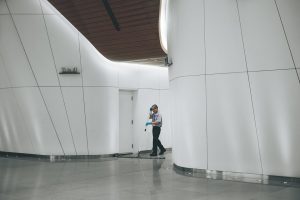 Offices need consistent cleaning because diredt, dust, and other debris are constantly building up on desks and other furniture. This buildup can trigger certain health effects like allergies and after a while, the office will start to look dirty overall which can give off the wrong impression to your employees, customers, and potential clients. You must remember that desks and objects that are used often like keyboards accumulate a large amount of bacteria from repeated use. Having your office cleaned consistently by certified professionals will prevent excessive dirt or dust buildup and as well as bacteria growth that can lead to health issues.
Trusted Office Cleaning Services
We are committed to thoroughly cleaning and sanitizing every aspect of your office space for a much cleaner and heathier working environment. Our specially formulated cleaning products are effective for removing dirt, dust, and bacteria buildup, and we form a custom cleaning plan based on your specific requests. Our cleaning professionals will do the following as part of our office cleaning services:
Dusting and cleaning of desks, tables, shelves, and other furniture
Cleaning and disinfection of desktop surfaces
Floor cleaning including vacuuming and mopping
Upholstery cleaning and vacuuming
Complete cleaning and sanitization of the bathrooms
Office spaces need consistent cleaning to cut down on the buildup of dirt and bacteria and keep your office looking professional. If you are interested in consistent office cleaning services for your office space in Glen Ellyn, IL, we offer our services on a weekly, bi-weekly, or monthly schedule. Contact RestorationMaster at (630) 796-6252 to schedule a cleaning appointment.