Doctor Fix-It
If your property is flooded during a violent storm or torrential rain, you need to take immediate measures to remove the water, salvage your belongings, and properly clean and dehumidify the premises. You are recommended to seek professional assistance as the experts will have the necessary equipment and the required know-how to mitigate the water damage as quickly and efficiently as possible.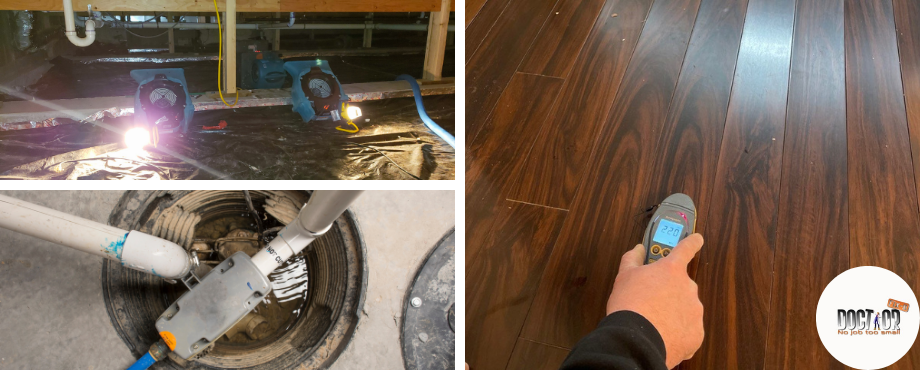 However, when leaking pipes or fixtures, clogged drains, malfunctioning appliances, or broken sump pumps result in excessive moisture in your home or commercial building, the problem may not seem very urgent or troublesome. Unless you take adequate measures though, the porous materials in your home will absorb the excess water and will start to grow bacteria and mold spores.  Within several days, the structural damage may become extensive, mold may affect large areas of your property, and even health problems may occur as a result. It is very important to act quickly at the first sign of water damage in your property in order to preserve the good condition of your surroundings and to keep your living environment safe and healthy. Without a doubt, your most beneficial option in such circumstances is to call the professionals and let them take care of the problem.
Doctor Fix-It provides complete water damage restoration for affected homes and businesses in Evesham, New Jersey, and the surrounding areas of Burlington County. Our experienced technicians will find the cause of the moisture and fix it, extract any excess water, and thoroughly dry out the premises. We will then repair any sustained structural damage, clean your household items and materials, and deodorize your home to restore the excellent condition of your surroundings.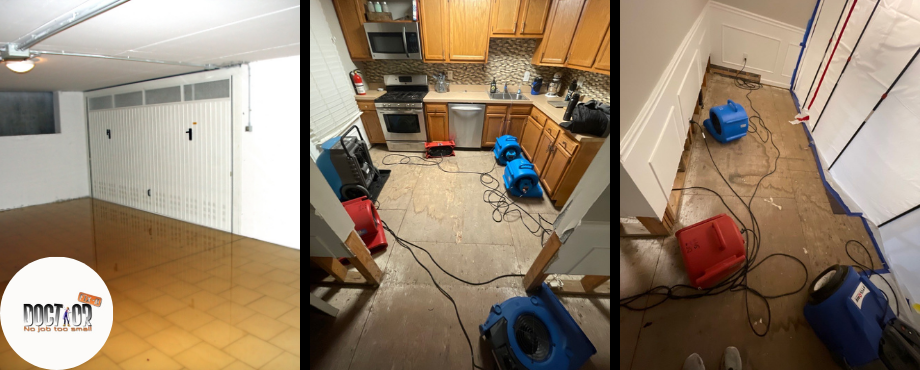 Water Damage Restoration Services in Evesham, NJ
The actual water damage restoration process cannot begin until the source of the excessive moisture has been identified and taken care of. Once the source of the problem is fixed (or the rain has stopped in the event of flooding), our experienced technicians extract the excess water and get rid of the moisture with the help of quality dehumidifiers, powerful air movers, and other specialty drying equipment.
When all the materials and items in your home are completely dry, we start repairing and sanitizing structural elements such as concrete surfaces, drywall, structural framing, flooring, etc. and restoring damaged furnishings, including furniture, carpets, and upholstery. If mold has already appeared, adequate measures are taken to get rid of it and mitigate the damage. Deodorization continues until no musty smell remains in your home.
Doctor Fix-It provides the following with our water damage restoration services:
Drying and dehumidification
Restoration of structural components and furnishings
Content drying, content cleaning, and pack-out
Mold removal and mold remediation
Carpet and upholstery cleaning
Deodorization
Contact Us
The entire water damage restoration process will be completed in the shortest timeframe possible, and every effort will be made to minimize inconveniences so that you can resume your normal daily routine as soon as possible.
Call us at (856) 746-6351, 24 hours a day, for water damage emergencies in Evesham, NJ. We guarantee a quick and efficient response.
---
Related Water Damage Restoration Services:
---
Related Water Damage Tips
How to Address Water Damage on the Ceiling Under the Bathroom
---
Recent Reviews
Review by

Robert Stenzel
Rating

"Keith and his team were professional and proficient, always keeping us informed as to progress and schedule working through a variety of minor to somewhat major repairs. Very satisfied!"
---
Review by

Jackie Bruno
Rating

"Keith and his partner were very responsive and were able to quickly figure out the source of the water damage in my house. Couldn't be happier we found them!"
---
Review by

Jim Love
Rating

"Keith is doing work for my elderly mother & she RAVES about him. Very professional, very kind & caring, excellent work & pricing. Definitely recommend & will be probably using myself at some point!"