RestorationMaster in Corvallis, OR
Fire damage is easily one of the most dangerous natural disasters that can occur in a home. It not only leaves houses and buildings in ruins, but devastates the lives of residents and workers. Losing even a portion of the property to fire damage can prove to be both costly and traumatic. However, there is a solution to this horrible disaster. As soon as the flames have been distinguished and everyone has safely evacuated the building, you must call an emergency fire damage cleanup service immediately. RestorationMaster guarantees a safe recovery of both residential and commercial building fires with our 24/7 fire damage restoration services in Corvallis, OR and the surrounding communities. With our effective, advanced equipment, we proudly promise to get the job done the first time.
Emergency Smoke Damage Cleanup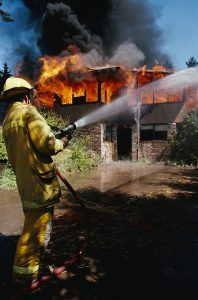 RestorationMaster considers all fire damage cleanup jobs an emergency service. This is due to the fact that even after the flames have been extinguished, the smoke and soot will etch and tarnish what is left of the building. Our technicians have the tools and experience necessary to handle all remaining building materials and personal belongings with care. This way, they will be properly cleaned and restored to their original condition before the fire. We are also experts in providing smoke and soot removal, neutralization, and deodorization services.
It is important to call RestorationMaster right away before these corrosive byproducts permanently destroy your home and personal belongings. When soot and smoke are not immediately removed after a fire, they settle into their surroundings, causing an irreversible chemical reaction. However, if treated immediately, our chemical cleaners will effectively remove tarnishing and etching before the materials sustain permanent damage.
Fire Restoration – What to Do
Permanent damage will begin to settle within the affected materials after three days. Call RestorationMaster right away for immediate fire restoration services.
Cover supply and return registers with double layers of cheesecloth to prevent any lingering soot particles settle into the affected materials.
Place a bed sheet over all furniture to prevent any floating soot from settling into the materials.
Dispose of any open food containers.
Replace all the furnace filters if it they are currently using hot air.
Remove everything from the refrigerator as long as the electricity remains off.
Clean all of the following materials: Formica, aluminum, chrome, and porcelain.
Fire Damage Repair – What to Avoid
Do not touch any damaged materials as it may cause the soot and smoke byproducts to settle in permanently.
Do not try to wash the walls as any improper cleaning procedures can further compromise their structure.
Do not try to wash any damaged carpets, furniture, or upholstery.
Do not turn on any ceiling fixtures.
5-Step Fire Damage Restoration Process
Emergency Pre-Cleaning
Content Cleaning
Content Pack-Out
Wall and Ceiling Cleaning
Deodorization
Everyone's safety is always the first priority when facing a fire. As soon as everyone has safely evacuated the building, fire damage restoration services must be called immediately in order to save the building and personal belongings from permanent damage. RestorationMaster guarantees a quality cleanup using advanced equipment and cleaning products to restore all affected materials. We are available 24/7 at 888-915-8868 for all fire damage restoration needs in Corvallis, OR and the surrounding communities.