RestorationMaster in Corvallis, OR
888-915-8868
In the event of water damage, it can often lead to mold growth within the home. Whether caused by a flood or burst pipe, excessive moisture and a proper feeding ground are all that are necessary for mold to thrive. Mold growth typically starts when the bacteria from the water meets building materials, such as drywall or wood, finally producing mold spores within the affected area. This not only affects your home; your family, especially those with allergies or respiratory issues, will suffer as well. RestorationMaster provides effective mold remediation services in Corvallis, OR guaranteed to eliminate all cases of mold growth while securing high-risk areas for the future.
Mold Growth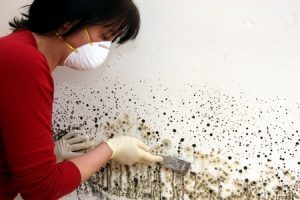 As moisture accumulates within an affected area, porous materials, such as wood and drywall provide cellulose for mold to consume while growing. If not treated right away, the mold will release its spores into the air. This not only allows the potential to affect other areas but puts you and your family at risk for dangerous health effects. However, our technicians at RestorationMaster use powerful but safe products to effectively remove mold growth in all hidden areas within the home.
Our mold extraction process includes these steps:
Thorough assessment of the damage, including testing for hidden mold
A detailed report provided for you and your insurance company
Containment of mold to affected area
Choose the best mold remediation strategy for your home
Complete mold removal and restoration of the affected area
Mold Restoration – What to Do
Call RestorationMaster in order to contain the damage within the affected area.
Wipe off any items are not already moldy. Repair any water leaks.
Allow for proper air ventilation throughout the home by opening the windows or doors if outside weather permits.
Wear proper protection when present around mold, such as glasses, a breathing mask, and gloves.
Lower the humidity levels by running the A/C unit or the dehumidifier.
Mold Remediation – What NOT to Do
Do not try to clean the mold yourself.
Do not use bleach or any other household cleaning product to remove the mold. Improper cleaning techniques may cause it to release its spores can cause negative health effects.
Do not try to paint or caulk over moldy surfaces.
Do not place the fan directly in front of mold.
Do not disturb any visible mold.
While mold is most often derived from water damage, it can occur anywhere within a home or building, given the proper conditions. This is why it is important to call RestorationMaster as soon as possible for effective mold remediation services. We are available 24/7 at 888-915-8868 for all mold removal services in Corvallis, OR and the surrounding communities.