RestorationMaster
A sewer drain backup or septic overflow can create a toxic mess. These waste materials are dangerous to handle, but the sewage will cause major property damage if not cleanup up immediately. The best course of action is to quickly contact a disaster restoration service that will have the gear and expertise necessary to perform effective sewage extraction and cleaning.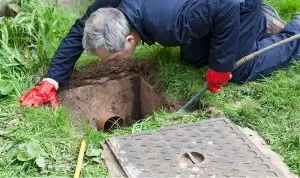 RestorationMaster provide sewage cleanup in Abington Township, PA. We are an IICRC-certified sewage extraction firm and our technicians are available 24/7 to respond to sewage backup and septic cleanup scenarios. Our sewage removal team will quickly arrive to safely contain the sewage and fully extract the waste from the affected areas.
Our sewage cleanup services in Abington Township, PA include:
24/7 availability and fast response to septic spills and sewage overflows
Total containment of the affected area
Complete sewage water extraction and removal of hazardous waste
Industrial dehumidification and drying of the property
Application of advanced cleaning agents to safely disinfect the affected areas
Contact Us for Sewage Cleanup in Abington Township, PA
If you experience a sewer drain backup, septic backup or spill, or similar case of overflowing sewage, keep your distance from the toxic elements and contact a professional sewage removal service as soon as possible.
You can call RestorationMaster at (215) 774-3120 for professional sewage cleanup in Abington Township, PA.