918-932-1333
Hoarding is a somewhat misunderstood disorder that can lead to dangerous conditions for the affected individual and their families. Classified as a mental disorder, hoarding is rooted in anxiety which is what prevents those affected from being able to throw anything in their home away. Eventually the hoard of items grows large enough to cut off parts of the home which increases the risk of injury and makes escape during a disaster much more difficult. Individuals who struggle with hoarding must understand that they are creating dangerous living conditions so they can see the importance of having their home cleaned.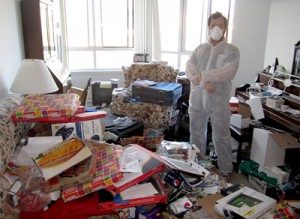 RestorationMaster provides hoarding cleaning services to clean up and restore the homes of hoarders in Tulsa, OK. Our technicians use advance cleaning products and equipment to clean and disinfect the home once the hoarded items have been removed. Hoarding cleaning is a sensitive project and we understand that this experience can be difficult for the affected individual. We make sure the individual is involved in the cleaning process and leave them with the final decision on what to do with hoarded objects.
Hoarding Cleaning from RestorationMaster
We are fully trained and equipped to provide complete hoarding cleaning services which include the removal of unwanted objects, thorough cleaning and disinfection, and deodorization. Large piles of hoarded items can harbor mold and bacteria growth and we are prepared to remove biohazard materials with our advanced cleaning gear and protective equipment. The most important aspect of hoarding cleaning is making a personal connection with the affected individual. Our technicians establish a relationship with the individual based on trust and respect and include them in the cleaning process so they have a sense of control.
Our hoarding cleaning services follow the rules and regulations of the EPA, the Department of Transportation, and OSHA and they include the following steps:
Decontamination: The home is entirely cleaned and decontaminated after all hoarded items have been removed.
Odor Removal: Our deodorization process can eliminate any lingering odors.
Proper Disposal: All hoarded items are either kept, thrown away, donated, or recycled and any biohazard materials we remove will be taken to a licensed medical waste facility.
It is only a matter of time before the home of a hoarder becomes dangerous and unsanitary. If you suspect that a friend or family member may be struggling with hoarding, reach out to them to help begin the cleaning process. RestorationMaster can help clean out the homes of hoarders in Tulsa, OK and the surrounding areas. You can reach us anytime at (918) 932-1333 to learn more about our hoarding cleaning services.