ServiceMaster by JTS
While the idea of hoarding can be uncomfortable for those affected, it is a condition that impacts everyone living within the home. As it is classified as a mental disorder, the individual suffers from an anxiety that disallows them from parting with the items in their home. But as these items continue to accumulate on the property, safety risks will soon occur, such as fire, electrical, and slip-and-trip hazards, as well as biohazards and the development of mold growth.
However, ServiceMaster by JTS is available in the Longview, WA area to provide professional hoarding cleanup services for those affected, helping them to dispose of the items while disinfecting the property. Our technicians also understand that this is a sensitive issue, which is why we work with compassion and respect during the cleaning and restoration process.
The Condition of Hoarding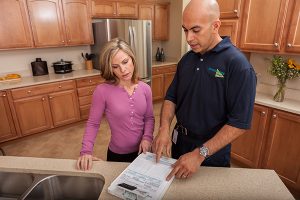 When approaching a hoarder with the idea of cleaning, it is important to do so with respect that it is a sensitive issue for them. But it is often up to a family member or trusted friend to reach out to professional services as the affected individual may feel embarrassed by the mess. These items can include any of the following with little or no value: moldy food, collectibles, newspapers, magazines, broken appliances, knick-knacks, and even animals.
But when working with the professionals of ServiceMaster by JTS there is no need to feel embarrassed by the situation as our goal is to restore and maintain safe and healthy conditions within the property. Our technicians will work with the individual, putting them in charge to approve the removal of each item. The home will then be disinfected, removing any biohazards, feces, mold, and other bacteria.
All of the following procedures are included within our hoarding cleanup services:
Organizing all items by their value into groups
Removal of all clutter and unwanted personal items
Proper disposal of hoarded items
Delivering other items to non-profit organizations
Assistance with legal documentation from lawyers and government agencies
Working with insurance company during claims process
The professionals at ServiceMaster by JTS understand how stressful it can be to part with personal items, especially when they are affected with a hoarding disorder. But it is crucial to reach out to them as a trusted friend or family member to have them understand that the current conditions within their home are jeopardizing their safety. As soon as you have gotten their approval, don't hesitate to call for professional help.
ServiceMaster by JTS is available at (360) 450-3505 in the Longview, WA area to provide professional hoarding cleanup services. We also work with insurance companies.