Some instances of water damage may seem small or simple enough, but water damage can be deceptive because it spreads quickly and can cause major structural damage and other problems if ignored. There are many potential causes of water damage such as rain, flooding, leaks, burst pipes, and plumbing issues and the porous building materials of a home such as wood and drywall allow excess water to spread very quickly. RestorationMaster provides water damage restoration services in Mentor, OH to remove excess water and repair the resulting damage. We have the right equipment to effectively dry out the structural elements and furnishings of your home and we are the only service provider in the Northeast Ohio region that provides water damage restoration and reconstruction services.
Water Damage Cleanup
There are a wide variety of problems caused by water damage in a home or building that may include property damage, corrosion, electrical issues, and mold or bacteria growth. Calling RestorationMaster right away for water damage restoration will help prevent extensive damage which will save you money on insurance claims and the repair process. We use the most advanced drying equipment in the industry including dehumidifiers and trailer mounted heat units to fully remove all excess water and moisture from the building to prevent mold growth and further structural damage.
Water Damage Restoration Services
RestorationMaster can provide water damage restoration services in commercial and residential settings for damage caused by floods, pipe leaks, groundwater leaks, plumbing problems, and high humidity.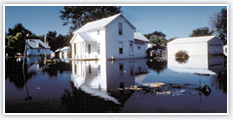 Our water damage cleanup services include the following:
Fast, 24 hour response to water damage emergencies
Best drying equipment in the industry
Response time within an hour of your call
Assistance with insurance claims
Technicians that are experienced, courteous, and respectful
Removal of furniture and other large objects to dry the area
Content restoration and pack-out services
Complete removal of excess water and moisture with drying equipment
Cleaning and disinfection of affected surfaces and objects
Complete deodorization with thermal fogging, air scrubbers, antimicrobial applications, and Hydroxyl technology
Reconstruction services for any damage
Final inspection with you to ensure that you are satisfied with our work
Water damage spreads very quickly so do not hesitate to contact RestorationMaster at the first sight of water damage in your home or building in Mentor, OH. We can effectively remove water and moisture from the building as well as provide complete construction services to repair the damage. The water damage restoration process usually takes about 3-4 days and we also work with your insurance provider to help coordinate claims. Our phone lines are open 24 hours a day at (440) 799-6661 to provide emergency water damage restoration services in Mentor, OH.