The possibility of a fire is a constant nightmare that many homeowners live with and when a home or building is damaged by a fire, it is the cause of the fire and extent of the damage that determine the best course of action in the aftermath. While the exact circumstances of a fire differ between cases, one common problem in all cases is that the damage will continue to spread after the fire is out because of the corrosive byproducts and soot left behind. RestorationMaster provides fire and smoke damage restoration services in Mentor, OH to help homes and businesses recover after a fire. We can effectively restore damage caused by fire, smoke, and soot using advanced equipment and cleaning products and we also provide written estimates for our fire damage restoration services.

Solutions for Fire and Smoke Damage
Fires can cause a wide range of damage in a building due to the heat, flames, smoke, or water used to extinguish the fire and if the restoration process does not begin right away, the damage will only get worse and eventually become permanent. The fire damage restoration services we provide are multi-faceted to offer effective solutions for fire and smoke damage as well as the auxiliary damage that is common after a fire. Our technicians are trained to repair and restore the following types of damage:
Fire Damage: Direct contact from the flames or intense heat causes charring on most surfaces as well as peeling of the paint and wallpaper. Certain objects can also melt from the fire and burned synthetic materials release chemical emissions and corrosive byproducts that continue to cause damage after the fire is out.
Smoke Damage: Smoke damage extends beyond the areas touched directly by the flames because the heat causes pores in the building materials to open which allows smoke to penetrate the building materials and structural elements of your home. Not only does smoke leave an unpleasant odor in the building, but it also is corrosive and potentially toxic.
Water Damage: Water damage does not usually come to mind when you think about fires but the water used to put a fire out can lead to water damage problems. This water will get absorbed into porous building materials opened up by the fire and will continue to spread until the restoration can be done.
Mold and Rot Damage: If the water is left long enough after a fire has been put out, it could lead to mold and rotting of the building materials.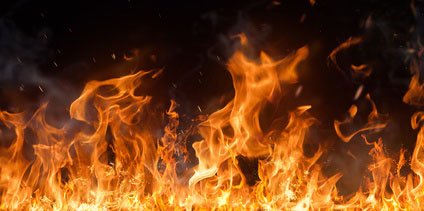 Fire Damage Restoration process
Our technicians have the training and experience to provide effective fire damage restoration services in commercial and residential settings as well as repair damage caused by the fire, smoke, and water. The cleaning products and equipment that we use are among the best available and include air scrubbers, Hydroxyl generators, and Omegasonics content cleaning systems. These services begin with an evaluation of the damage and a restoration plan is created based on our assessment. Our fire and smoke damage restoration services include the following steps:
Quick response for emergencies
Full assessment of the damage including water damage and mold growth
Mold and mildew removal using anti-microbial applications with an option to use green cleaning products
Content cleaning and pack-out services to restore and disinfect your personal items
Air duct cleaning if necessary
Deodorization with thermal fogging
Cleaning and restoration of damaged surfaces such as walls, floor coverings, and fixtures among others
Use of ozone machines for odor removal and sanitization
Complete reconstruction services
Help with insurance claims
Final inspection to ensure that you are satisfied with the results
Fires can be very dangerous for those inside the home or building and they can cause vast amounts of damage in a short period of time. After ensuring everyone's safety and having the fire put out, it is important to begin the restoration work as soon as possible to prevent permanent damage. RestorationMaster provides fire and smoke damage restoration services in Mentor, OH to repair and restore damaged homes and buildings using the most advanced equipment in the industry. You can reach us 24 hours a day at (440) 799-6661 for fire damage emergencies.