RestorationMaster
When a house or building fire occurs it can be one of life's most traumatic experiences. Discovering that your building and contents are being destroyed can certainly be devastating as you may not know what to do after calling the fire department. However, your building and contents can still be saved after a fire as long as treatment is applied right away. This is because even after the flames have been extinguished, the soot and smoke particles left behind will cause etching and tarnishing to the affected surfaces. In order to prevent permanent damage, emergency damage cleanup services are crucial.
RestorationMaster is available in Hillsboro, OR to provide emergency smoke damage restoration services to not only restore the damage but your peace of mind. Our technicians will also limit the spread of damage, keeping it contained to the affected area. We will also work with your insurance provider to allow the process to run as smooth as possible.
Experiencing Smoke and Soot Damage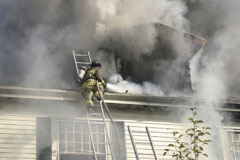 The reason why emergency treatment is crucial is because the smoke and soot can settle into the affected materials quickly, making them unsalvageable within a certain amount of time. As the fire burns, the smoke can burn as well. This is called chemical burning, pitting, and etching. Porous materials, including paint, wood, drywall, and fabrics, are most susceptible to take on this type of damage as they will absorb these corrosive byproducts in the least amount of time.
The smoke and soot particles will also leave behind a residue that can be oily, corrosive, and sticky to the touch. Ultimately, the faster the treatment is applied, the less of a risk occurs for permanent damage of the structural materials and content.
Soot and Smoke Cleanup
As RestorationMaster guarantees emergency services, our technicians will arrive within 2 hours of your initial call, first to stabilize the condition of your home, followed by immediate cleaning. Our technicians also use advanced products and equipment to effectively restore your property and content. As they work to limit the spread of the damage, this can save you from having to pay extra costs in the future.
In addition to their years of experience, our technicians also undergo frequent training, both on-the-job as well as classroom training to remain updated on all of the latest cleaning trends and techniques in the industry. Finally, we can assure you with some peace of mind with our quality services, working to restore your property and contents to their original conditions as soon as possible.
Our soot and smoke cleanup services cover the following:
Tarping and stabilization of the property
Pre-treatment and cleaning (to prevent the damage from spreading)
Content cleaning and pack out services (if applicable)
Damaged materials restoration
Restoration and cleaning of furniture, upholstery, and other fabrics
Smoke odor removal (ozone and hydroxyl application)
Content Cleaning and Pack-Outs
During the smoke and soot repair process, RestorationMaster guarantees a quality job due to our years of experience and on-the-job training. We will first begin the procedures by assessing the damage, developing a plan that will ultimately have your property returned to its original condition as quickly and effectively as possible. We will also provide content cleaning and pack out services in the event that your belongings have been severely damaged and must be cleaned right away.
If the condition of your home does not allow for the restoration of your items to be cleaned on-site, we will clean and restore them at our facility. Smoke odors will also be removed from the property with deodorization services in addition to providing proper air ventilation throughout the house or building. Finally, your stress can be relieved as our technicians work to impress in providing the most efficient and effective smoke and soot cleanup services in the industry.
If your property has taken on severe damage from a fire or smoke, do not hesitate to start the restoration process as soon as possible. This is also to prevent additional damage in the future.
RestorationMaster is available 24/7 at (503)376-6666 to restore the damage with emergency soot and smoke damage restoration services in Hillsboro, OR and the surrounding communities.