RestorationMaster
As mold is a natural occurrence in the environment to break down organisms, it can also be a hassle to deal with if it is found within your home. As mold typically thrives in moist, dark conditions, a home that has taken on water damage would be a perfect breeding ground for these fungi. Porous materials, including paint, insulation, and drywall are especially at risk as the spores have the ability to disperse and cause additional damage.
Mold can also have a negative effect on the health of you and your loved ones. Especially for the sake of those with allergies and respiratory problems, this issue must be taken care of immediately.
RestorationMaster provides professional mold removal services in order to not only eliminate the mold at its source, but prevent future growth.
Mold Growth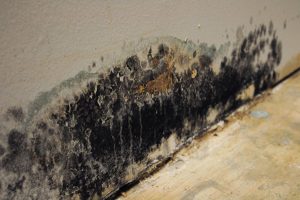 Mold only has 2 requirements in order to grow: moist conditions and a food source. A home that has sustained significant water damage makes it a perfect home for mold. This is because there is excess moisture in the air and the fungi are able to feed off of the cellulose located within the drywall or wood. If not treated immediately, mold can cause permanent damage.
However, using home products in order to clean it yourself may be dangerous, especially if it is located behind the walls. If you do try to do this yourself, be sure to use proper protection equipment to avoid inhaling the spores.
Mold Remediation – What to Do
Call RestorationMaster as soon as you discover mold within your home.
Dry off any wet items as they are at high risk for mold growth.
Fix any water leaks within the home as this may be the source of the mold.
Provide proper air circulation by opening all windows and doors as long as outside conditions will aid in the process.
Lower the humidity levels throughout the home by turning on the A/C systems and/or dehumidifier.
Check the air duct system.
Mold Removal – What to Avoid
Never try to remove the mold yourself, as doing so will only cause it to release it's spores, opening the risk for negative health effects and spreading further damage.
Do not use bleach or vinegar to clean the mold as it will only irritate it and cause it to retreat further within the affected surfaces.
Do not use any paint or caulk on the moldy surfaces.
Avoid all contact with the mold at all costs as there are many types of dangerous molds that can cause severe health effects.
Professional Mold Cleanup
It is always best to have a professional mold cleaning team in order to efficiently and effectively remove all cases of mold. In order to prevent additional growth and negative health effects in the future, the technicians of RestorationMaster have years of experience in eliminating mold. In addition to their ongoing training, they use the best cleaning products and equipment in the industry in order to give you the highest quality cleanup job. Finally, when all of the mold has been removed, we will restore all affected materials to ensure that all cases have been eliminated at their source.
If your home has sustained damage from mold growth, it is essential to call a professional mold cleaning technician as soon as possible. Not only will this eliminate all cases, but will prevent them from returning in the future.
RestorationMaster is available 24/7 (503)376-6666 for mold remediation in Hillsboro, OR and the surrounding communities.